Wanted to say a little about the opening day 25 man roster this opening day.  This the fourth opening day of the season.   I'm reminded of the day when it was just the Reds who played early.  Now the first game of the year isn't even played in this country!  That issue aside…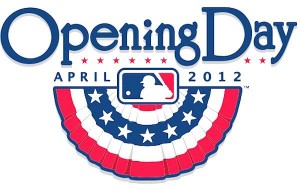 I don't think anyone was surprised by the moves that were made earlier today to bring the 25 man roster into focus.   I'm going to include some 2011 stats, and their salary for 2012.  First off, the ones that don't open on the 25 man.
Yoshi Tateyama – He starts the season on the DL.  We hadn't heard much about him being hurt until the last few days, when it was realized we needed a roster space.  I'm not saying his DL stint is a lie, but it did come up out of nowhere fast.   He hasn't pitched awfully, but I wonder about his long term future – he doesn't instill much confidence to this fan.
Julio Borbon – He starts the season in AAA, and will share time with Leonys Martin in CF.   I think everyone was HOPING that Borbon would finally figure it out this spring.  I said early on that if he doesn't start the year with the team, he's probably gone some time this season.  Maybe not right away, but I would expect him to be packaged in a deal with someone else at this point.   An injury can change that, but I think he's passed the time to earn it on his own, unfortunately.
Cody Eppley – He's been up here and there before, so he's not a stranger to Arlington.  But was a name you didn't hear much of in discussions this spring.  He was DFA'ed in the roster dance today.  Given all the traffic in releases and cuts this time of year, I bet you we get him through waivers, and outright him to AAA.  I was wrong.  I wrote that text on Wed the 4th, and then he was claimed by the Yankees before I posted this on the 6th.  :)
Those are the ones I felt like saying something about that didn't make the roster.  Here's some remarks about the 25 guys who DID make the roster…
These are in no order on my end, I just cheated and used the list the players were listed in the Rangers 25 man press release.  Needed SOME order, I went with that.  :)
Pitchers
Mike Adams – One of the big name studs that came over here at the trading deadline last year.  The stats above, are Texas only.  He had slightly better numbers in San Diego in the first half of the season.  I attribute the difference to the couple of bad outings he had right after the trade.  Settled down, and got respectable again.  Looking for him to be a big part of the bullpen in 2012.
Yu Darvish – The prize of the off season actually starts the season in the fourth slot in the rotation.  I find that a bit odd, I thought they'd put him third at least.  Still, his first start will come against the Seattle Mariners, who can't hit worth a spit.  Not that one start will define a season, but you'd like the first one to be against a lesser hitting team.  Too bad our interleague against the Astros couldn't have come first.  A ton has been written about Darvish, and early on in the spring he looked quite pedestrian.  As spring went along, he got much better.  I don't expect him to have a 25-2 season or something like that.  But I think he'll do quite nicely once the season is over.
Scott Feldman – Scott did well a couple of years ago, winning 17.  Then he tanked the following season, got hurt, and lost his rotation spot.  He did get a nice contract after the 17 wins, so he's going to be a well paid long man in this rotation.  His 2012 spring has been pretty decent, so I expect he'll do well.  Thing is, will he get enough innings to stay sharp?  He'll probably be the spot start guy this year.
Neftali Feliz – Tries to follow in the path of CJ Wilson & Alexi Ogando by going from the pen to the starting rotation.  Of the three, I have the least confidence in this move.  I was always kind of weary before spring started, and then during the spring, he hasn't exactly lit it on fire.  I don't think he'll be atrocious, but we'll have to see how this plays out.  I'm not looking forward to his starts, that's for sure.
Colby Lewis – Colby was a great pitcher for us in the post season the last few years.  2010 he was great during the season.  2011, not as much.  He was't bad, just not AS great.  The league figured him out, so I'll be curious to see how he does this year with adjusting again.   He still led the league in gopher balls allowed – not a stat to be proud of.  Could do better with toning them down.
Mark Lowe – The other guy in the Cliff Lee trade we got.  Kind of like Nelson Cruz was to Carlos Lee.  Hey – they both had surnames of Lee.  That's gotta mean SOMETHING.  :)  Mark went 2-3 with a 3.80 ERA last year with the big club.  His WHIP was a tad high at 1.44.  He has been a good, servicable piece, but definitely not someone who will light it up with gawdy stats.  I guess there' s something for steady and not flashy, eh?
Joe Nathan – The former stud closer for the Twins takes up residence in Arlington.  He was hurt for awhile, came back last year, and did well the last half of the season.   He takes over for Neftali Feliz.  He's had a mostly bad spring, especially early on.  He's gotten better at the back end of the spring, but he's a huge question mark to me.  I hope he does well, but I'm not confident.  If he can't get the job done, it throws everything into flux.  Do they move Feliz back in a Joba Chamberlin role?  Do we put Ogando there?   If he's doing well, then we have nothing to worry about – hope I'm worrying about nothing.
Alexi Ogando – A real surprise last season in the rotation.  It got him his first All Star selection as a starter.  He did run out of gas in the back side of the season.  He definitely did well last year, which made it a bit of a surprise that they moved him back to the bullpen for 2012.  I just think how the back and forth messed with Joba Chamberlin with the Yankees.  Don't want that to happen here.  I'm sure he'll do great in the pen, as he'll be gassed up just coming in out of the pen.
Koji Uehara – Bit surprised he's here.  With the blocked trade, and the other attempts to move him.  I figured he'd be gone.  But he's still here despite a horrible spring with a 10.61 ERA, and 11 earned runs over 9.1 innings pitched.  Batters hit .325 against him, and his WHIP was pretty bad at 1.82.
Matt Harrison – With all the attention that Yu Darvish & Derek Holland have gotten, Matt is kind of flying under the radar.  I wouldn't call him "forgotten", but he's definitely not getting the attention he should.  Had a good year last year, and while he doesn't fill me with 100% confidence, I really like where he's going.   I think he can build on the 14-9, 3.39 from last year.  I don't think we're looking at 22-6 or something like that, but even just getting last year's numbers repeated will be quite nice.  Gut feeling says he'll probably do about the same as last year.
Derek Holland – Fresh off a newly signed long term deal, Derek Holland now becomes the poster boy for home grown pitcher.   He took quite the strides last year, going 16-5, 3.95 in the regular season.  Threw an absolute GEM in the World Series.  He's definitely coming into his own, and I love the mix of hard work and goofiness.  I know some fans take exception to his impressions, and the silliness, but I see that as an important part of his overall package.  The mix of serious and silly counterbalance each other.    I expect an improvement from 16-5.  I don't think 20 games is out of the question.  Feeling good about this one – a bit moreso than I felt after Feldman's 17 of a couple of years ago – and I liked that!
Robbie Ross – Robbie will be making his major league debut with the team on Friday.   He was the surprise winner of the left hand reliever competition.  I think most people probably just assumed the winner there would be Michael Kirkman.  But Ross beat him out having a great spring.  Robbie threw 12 innings in the spring, allowed just two earned runs total, and struck out 11.  Had a nice WHIP of 1.00.   I'm always rooting for guys making their debuts on the opener!
Batters
Mike Napoli – After his 2011 season, which made him kind of a local folk hero, Napoli goes into 2012 as the #1 catcher.  Oh, officially he and Yorvit are splitting the duty, but I think realistically Napoli will be "the guy".  Especially given they were talking about a long term extension.  You don't talk about that kind of extension and those dollars with a guy who will just be splitting duties.  His numbers were off the charts for power and average last year.  Definitely had a career year.  If he follows it up in 2012 with similar numbers (or better), I would say they won't have a problem paying him the big bucks.  He's signed for this year, so I expect it's a "Let's pay him, but wait and see if it's a fluke before we REALLY pay him".   I'm hopeful he'll do as well, but you always have that little doubt in the back of your mind when someone has a career year like that as to whether they can duplicate it.  Hopefully he does.
Vorvit Torrealba – Signed before last season to be the #1 catcher before Napoli was brought on board.  Serviceable guy.  Won't ever light up the numbers that much, but doesn't embarass himself at all in any facet of the game.   I don't dislike him, but I don't get too worked up and excited thinking about him.  Will probably match last year's numbers – because that's what he does.  Be consistent.  The change in pitching coaches last year helped him – hopefully he has a better year this year with a full time Scott Coolbaugh.
Elvis Andrus – He's a guy who is known mostly for defense.  His offense isn't awful, but he's more the throwback shortstop like an Ozzie Smith type.  Great defender, great speed, not a lot of offense.  He also has a bunch of that "Latin joy" in him that I think is missing in so many US born players.  Love having him around, and I've read where he has bulked up a little – and has been working on his batting, so hopefully that will pick up a bit.  Still can't see him getting more than 4 or 5 home runs max a year, though.  Probably closer to 1, however.  heh.  :)
Adrian Beltre – At the time we signed him, I felt like this was a "push my client on the Rangers" move by Scott Boras.  However, he turned out to be one of the best signings of recent vintage.  His defense was stellar at third – and his offense was almost just as good.  He has some stupid power, and can play defense at third better than most anyone.   Assuming he doesn't get hurt, I expect a huge year out of him.
Alberto Gonzalez – He won the 25th man backup infielder spot in spring.  I have to say I don't know much about him, and is the guy on the roster I know the least.   The Rangers usually have a habit of finding decent guys to fill this role over the years, so I expect him to do fine.
Ian Kinsler – You know what you get with Ian.  Great second baseman, incredible power for a leadoff hitter, and someone in desperate need of a hairstylist.  :) Seriously, he's done well when he's kept his uppercut swing under control.  Hopefully I don't have to break out my nickname for him this year too much ("Capt Uppercut") – I like that we're solid at second base with him, and the talks going on now about a 5-6 year extension are nice to hear, I hope that gets done.   I expect another year with him just like last year.
Mitch Moreland – Mitch is a guy that needs a big bounceback year, or he's in danger of becoming Chris Davis Part II.  It came out in the off season that he was playing hurt last year, and it impacted his swing.  His defense is probably not as off the charts as Chris Davis & Mark Teixeira before him, but he's a plus defender.  As he grows, he should get even better.  Hopefully the story about being hurt is accurate, as I really would like to see this guy take charge and grab hold of the first base job for awhile.   A big question mark here going into the season for sure.
Brandon Snyder – OK, I lied.  Snyder is the guy on the roster I know the least about.  Taking a total pass on this one – sorry about that.
Michael Young – If you're reading this page, then I don't need to tell you anything about Michael Young.  Pencil him in for 190-200 hits, and we'll see you in the postseason.
Nelson Cruz – Keep this guy on the field!  He's had some injury issues the last few years, and has been unable to put together a single, solid full season.  We still don't know where his HR & RBI totals would be if he could.  I'm hoping he can do this in 2012 finally.   Then he goes and gets dinged in the hand by a pitched ball  in the Mexico exhibition game.  Hopefully that's nothing.  If he stays on the field, I'm hoping for a monster (full) year finally.
Craig Gentry – Craig is the fourth outfielder in this setup, and he's a guy who if he had a little more pop in his bat, he'd be the regular center fielder.  He's fast, plays good defense, but needs to work more on his offense.  He's not Mendoza line type, but he does need some more offense.  Like the guy – kind of reminds me of Ryan Ludwick when he was here early in his career.
David Murphy – Looks like Murph has finally cracked a starting position – but that's more due to the fact that neither Borbon or Gentry claimed center field, and they had to put Josh there, putting Murph in left.  Not that he doesn't deserve it – he's put up great numbers in the fourth OF slot, and on a team that's less logjammed in the OF, he'd be a starter.   He's got a starting job to begin the season, and it'd be good if he could keep hold of it.  Not sure what to expect out of him with a full season – as he's never really done that before.
Josh Hamilton – What can we say about Josh?   This past off season, he fell off the wagon, gave a rambling press conference about "not owing the Rangers anything", and went the entire Arizona portion of the spring with no home runs.  At this point, I'm not sure what to expect out of him for 2012.  I just hope it's something good.
That's it for my Opening Day look at the 2012 25 Man Roster.    I unfortunately will not be watching at 1PM when the game starts, as I didn't win the lottery for tickets, and I don't have Cable TV – for the first time the home opener is not on free TV.  I will be watching in the evening when Channel 21 replays the game.  Hopefully I can keep myself from finding the score between now and then.