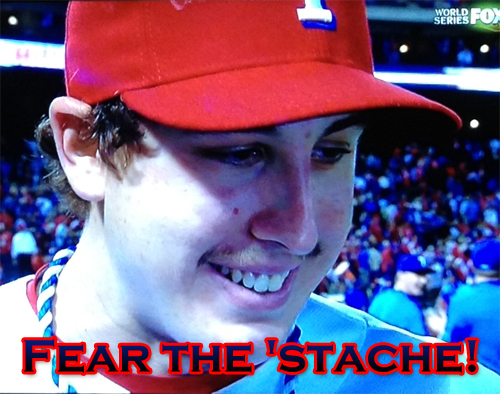 After getting trounced the night before, 16-7, I'm not sure many Rangers fans knew what to expect the next game out. Anyone who picked a near complete game shutout by Derek Holland was either really high on Holland, or perhaps just high. I don't think anyone really figured we'd get THAT good of a performance from Holland.
Oh, he's shown moments of greatness during the season. He's had some dominating performances for sure. But in the World Series in the next game after giving up 16 runs? No, that's a new level of greatness for the man who sports the goofiest 'stache around. While I didn't think he'd stink it up, I can't say I was terribly confident in Derek before the game started. After the blowout, it was pretty important we even it up 2-2, as if we went down 3-1, it was realistically over.
But Derek proved me wrong, by coming out and dealing. Derek was just lights out. He allowed just two hits in his 8.1 innings of work. Both of them (single, double) were to the same batter, Lance Berkman. That was it. Derek did walk three, one of which was his final batter in the ninth. Speaking of the ninth, I have to say when he did come out for the ninth, I was QUITE surprised. I didn't think Wash would send him back out there. He was dealing, and still looked quite impressive, but I figured for sure we'd bring in Feliz for the ninth. Feliz came in anyway after Holland walked a batter, and got a great standing O, but it was seriously impressive to see a Rangers starting pitcher of recent vintage who wasn't named Cliff Lee be that dominant in the World Series. Painting the corners, struck out eight – he was just lights out. Was really REALLY impressive.
Thing is, we weren't doing a lot against Edwin Jackson, either. We did push across a run in the first inning, but left the bases loaded. Never ever a good sign to do that. But that one run held up. It was still 1-0 going into the bottom of the sixth. We had missed a few opportunities to score, one when Kinsler was picked off to end an inning. There was a double play in there too if I remember right, so we weren't exactly raking in the offense. The one thing Jackson WAS doing was walking guys. He walked seven in all during his 5.1 innings of work. Rather a lot, actually. But they hadn't burnt him. Until now. Tony LaRussa made one of his "genius" moves, and brought in Mitchell Boggs from the bullpen to face Mike Napoli..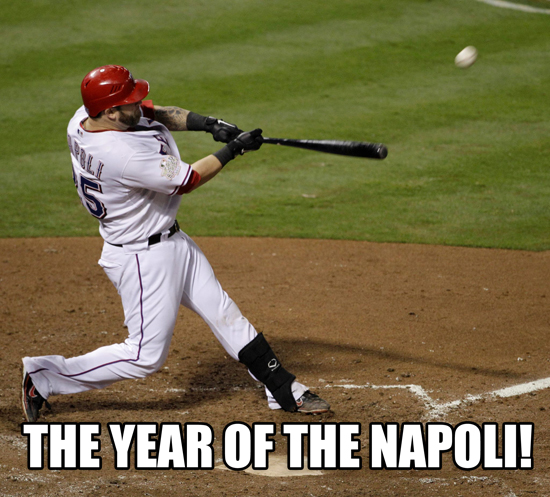 Mike jacked the first pitch he saw up near where Albert Pujols' big home run from last night went. A titanic blast that was an instant no doubter. When it happened, I threw my arm up in the air, and did my "Oh, GOODBYE!" thing I do when it's a total no doubt home run. That set the tone for the rest of game. Put us up 4-0, and while there was no more scoring, it was fun from that point forward.
The top of the ninth had a little drama, but not TOO bad. Nick Punto grounded out, and then Holland walked Furcal. This prompted a visit to the mound, and Wash ended up taking Holland out. Brought in Feliz, who walked Allen Craig. Not good. But he kept Pujols in check again with a flyout, and struck out Matt Holiday to end the game.
It was a stellar game. Pitching, some power, this is what Game 3 should have been, not that fiasco that masqueraded as a World Series game on Saturday night.
We're now 2-2 again, and going into Monday night's final game in Arlington for 2011, we need CJ Wilson to step up and be the starter than he should be. I mean, look at this graphic they flashed during the game last night. It's an impressive negative statistic. He needs to break out of it NOW, as this is his final start of the season. Gotta make it work, CJ.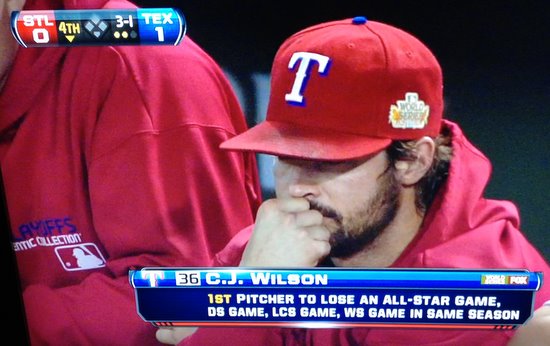 Back to St. Louis Note: There's an 85% chance of rain in the Forecast for Game 6 on Wednesday. If that happens, Game 6 will probably be Thu, and Game 7 will probably be Friday. If that's the case, do we see the 'stache again in Game 7?