That simple title does not do justice to this game at all. Not EVEN CLOSE. This was an epic game. There's so much to write about on this one, but I'll start it off with just two quick questions:
What if Elvis Andrus got the bunt down?
What if Albert Pujols cut off the ball?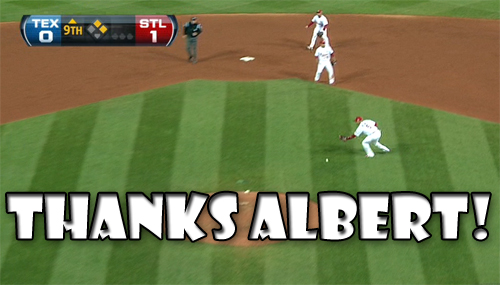 While both of those questions happened during the same at bat, they're both really deep questions. If Elvis Andrus had gotten his bunt down during the 9th inning (which he did not), he wouldn't have gotten the single to right he did, which set up the scoring for the Rangers. Granted, if Elvis hadn't gotten the single, we wouldn't be asking the second question. Which itself is probably a bigger issue. If Elvis HAD gotten the bunt down, it's probably likely the Rangers would have tied the game. One never knows for sure, but I'd say it's probably a reasonably safe bet we would have tied it. However, when Elvis singled, Albert Pujols clearly muffed the cut off throw, and due to that, it allowed Elvis to get to second on the throw. This set up second and third, nobody out, and the Rangers tied the game and then took the lead on two consecutive sac flies by Hamilton & Young. It was an epic EPIC ninth inning. Tony LaRussa used three pitchers in that inning. He started off with his closer, which he pulled after just two batters. I'm not sure if I agree with that, I probably would have walked Hamilton and played for a double play. He brought in Arthur Rhodes, who threw one pitch, and was out. That was the sac fly pitch to Hamilton. That's where the muff by Pujols was HUGE. That put Andrus on third with just one out.
I've seen a lot of baseball games in my life. I'm just 46, so not nearly as many as some friends of mine (Hi Tom & Stan), but still. One of the better playoff games period. Speaking to that, I was listening to XM's baseball channel yesterday afternoon, and heard something on there that rung pretty true to my ears. They said that this was the first truly pure World Series in some time. What they meant was that the teams are pretty evenly matched all things considered. On top of that, the teams haven't played each other. Oh, they played three games a few years ago in Arlington, but let's face it. We really haven't played them. Their angle was that it was two evenly matched teams who haven't faced each other except in the World Series. They said it was an old school World Series, and I agree with that. Then on top of it, we got a couple of really good games the first two!
This game was a serious pitcher's duel for quite a long time. It was scoreless into the bottom of the seventh, when the Cardinals scored their run. Leading up to that, Colby Lewis & Jaime Garcia were matching zeroes. Garcia actually pitched a little better than Lewis in terms of the pure numbers:
Garcia: 7IP, 3H, 0R, 1BB, 7K
Lewis: 6.2IP, 4H, 1ER, 2BB, 4K
But they matched zeroes. Truth be told, the one run that Lewis allowed was an inherited runner that Ogando allowed to score. The play that scored the STL run was reminiscient of Byung-Hung Kim in the Diamondbacks/Yankees series 10 years ago. Two straight games, two of the same result. Ogando allowed an RBI hit to Allen Craig. Both times pinch hits, too. That was frustrating, and had me talking at home, and on Facebook about how I hate pitchers batting. At that time, Garcia was pitching great, and he was taken out due to wanting a hitter. Granted, the move WORKED, but their (at that time) doing quite well starting pitcher was removed. I grew up in an NL town. I lived NL baseball until I was 28. I don't like pitchers batting – kills almost everything offensively.
Speaking of pinch hitting, our pinch hitting in this series has been total ass. Check this:
Rangers:
Game 1:
Craig Gentry – PH for David Murphy, struck out, left two men on.
Esteban German – PH for CJ Wilson, struck out, left two men on.
Game 2:
David Murphy – PH for Craig Gentry, was pinch hit for himself before he batted
Yorvit Torrealba – PH for David Murphy, struck out.
Esteban German – PH for Alexi Ogando, grounded out.
Cardinals:
Game 1:
Allen Craig – PH or Chris Carpenter, singled, RBI (off Ogando)
Game 2:
Allen Craig – PH for Jaime Garcia, singled, RBI (off Ogando)
Needless to say, the Rangers pinch hitting has been a wasteland. Actually, David Murphy had the best at bat, he didn't even make an out! Granted, he didn't have an official at bat, either, but he did statistically make an appearance, and didn't make an out!
Anyway, I was really enjoying the pitching matchup, and I do have say after the Cardinals got their one run, I was a bit concerned about going home to Arlington, 0-2. Not in full fledged panic mode, but it was a bit of #johnvittas clenching, for sure. Speaking of the "Vittas Clench", it snuck in full force when Colby walked the other pitcher. That's always BAD. Fortunately it didn't hurt us
The big hero for me for this game has to be Elvis Andrus. He was clutch in a bunch of places. He had two spectacular defensive plays in the field, both of them ended an inning. One was a feed to Ian Kinsler (who bare handed it) for an inning ending double play. The other was a dive on a ball I didn't think he'd get to, and a backwards glove only flip to Kinsler for an inning ending force at second. Then in the ninth, he had the single and the extra base take on the Pujols error. He also stole a base. He was big all over this game.
Overall, there wasn't a ton of offense in this one. COMBINED, the teams had 11 hits, 3 runs. Of the hits, only one was anything but a single (Furcal's double). Was JUST enough. Felt more like an NL game.
The ninth inning comeback was even more improbable when you realize it was against the Cardinals' closer – who up until that point was untouched in the playoffs. Then Tony LaRussa started his "car of circus clowns" approach to relievers. Just keep pulling 'em out of the car door. Heh. Seriously though – that he pulled his closer was impressive. Once Elvis got to second on the Pujols muff, I kind of figured it was over. Second and third with nobody out, you just FELT like we were scoring those two.
Afterwards, there were several people who were equating the comeback to the same kind of thing against the Miami Heat in the NBA finals a few months back. Stunned the Heat at the end of game 2, sending it back to DFW with a split. We know what happened there. :)
Bring it on home, boys! Thanks again, Albert. Way to support your team by bailing out and not talking to anyone after the game, too. Probably didn't want to take the hard questions like "Albert, do you think that because of your error, you may never play another game in St Louis as a Cardinal now?" :)