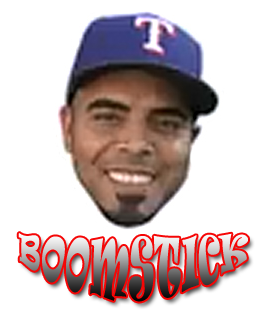 I'll talk about the floating head to the right later, but I did want to say that the start of the game was rough going for me. My wife and I spent the afternoon at a hospital talking to someone about an upcoming exam we have for our son. That was happening right as the Rangers game was getting started. When that was over, we went and grabbed some dinner, as neither of us were in the mood to cook after a couple of hours talking at a hospital. I chose a restaurant that had no TV's, and was unlikely to be a talking place for the Rangers. It worked out, because I managed to survive from 3PM till we got home around 7PM from finding out anything about the game. Oddly enough it turned out the game was still going when we got home, but I didn't know that. More on the TiVo recorded game later. But I pulled it off.
Sat down to watch the game, and instantly thought it was repeat of Game 1. Derek Holland was doing the same kind of stuff that CJ was in the first game. Pitching all over the place, too many pitches, and being bailed out by his defense. There was one play in particular that I was sure was going up the middle for a two run single. But Kinsler ranged REALLY far to his right, got the ball and barely got it to Elvis in time for an inning ending forceout at second. Replays show it was the right call, but by the barest of margins. It was a really great play. Pretty typical of the way we've looked this post season.
Derek Holland wasn't good at all. He only went 2.2 innings, but allowed four hits and four walks for a total of three earned runs. The three runs all came on a three run home run to Sam Raburn in the third inning. You could make the point that the home run was the only costly thing he gave up. However, he was all over the place. 76 pitches in just 2.2 innings. That many walks and big counts will do it. In the playoffs, all that counts is W/L, and the way he pitched, he deserved the L. No doubt.
We did have the lead early on. We scored twice on three consecutive hits. A single (Elvis), a double (Josh), and another double (Beltre). That put us up 2-0 early. Felt good, even with the 25 pitch mess in the top of the first. However, Holland's team bailed him out again. After he lost the lead with that home run, we cruised (get it? Cruz? har har har) along until Nelson came up in the bottom of the seventh. Matt Scherzer, who had been pitching quite well for Detroit, let the game get away by allowing a solo home run by Nelly off the fair pole in left. Tied the game. Felt good about that.
I'd be remiss by not mentioning Scott Feldman, who came in after Derek Holland failed. Scott pitched 4.1 innings of one hit shutout ball. He also struck out four and just 49 pitches. He really deserves major props for keeping the game where it was at at the time. Wouldn't have won this one without him.
Then came the roller coaster. After we tied the game in the bottom of the seventh, you started to get that feeling of "Man, we just need ONE. JUST ONE! You always like those going into the bottom of the 8th, and then the 9th, because it's generally easy, unless the opposing pitcher is shutting you down. The top of the 8th felt like a good setup, as Ogando got the Tigers out 1-2-3, finishing it up with an extremely well placed ball away for a called third strike. The bottom of the 8th started off good when Elvis Walked. Speedy guy on, just need one run. Was feeling even better when Hamilton lined the ball hard down the third base line. Unfortunately, he lined right into a double play, as Elvis had run way too far by that point. Quashed that feeling pretty quick.
Then in the top of the 9th, you were getting the sinking feeling, as Ogando got the first two out quick (good), then allowed a single, and was replaced by Mike Gonzalez, who allowed a double to the only guy he faced (bad). Feliz came in, and oddly enough intentionally walked Miguel Cabrera. Usually that thing is done by the outgoing pitcher. No matter. He ended up getting Victor Martinez to pop out to end the threat with bases loaded. Dodged that bullet.
Then came the bottom of the ninth. Adrian Beltre led off with a double. Then they intentionally walked Mike Napoli to get to Nelson Cruz. Cruz was hit by a pitch to load the bases up in the bottom of the ninth. Needing just one run, the game was surely in our hands now. Wild pitch, walk, balk, any number of ways to get the job done. Surely a short fly out to left field, and a 3-2-3 double play to end the threat won't happen, right? Well, that's exactly what happened. In a play that got some noise for a non Washington move, he didn't sub in Craig Gentry at third, a way faster runner than Beltre. The flyout to left by Murphy was shallow. I'm not sure Gentry would have made it, despite his speed; we'll never really know. But Mitch Moreland, who has struggled mightily this post season grounded into the 3-2-3 double play to end the inning. Bottom of the ninth, needing just one to win, bases loaded nobody out, and don't get the job done. Yeah, that's a a surefire sign of a forthcoming extra inning loss. Always seems to roll that way.
Both sides of the 10th went quickly. Which is good, as it seems that 9 times out of 10 we lose in extra innings in the 10th. We passed the 10th test, which is great. Mike Adams came out for the 11th, and struck out the first two batters, allowed a single, then a flyout, so it was pretty uneventful.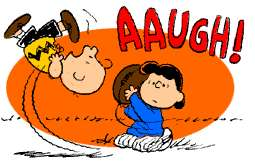 And that's where I ran into trouble. As I pointed out earlier, I was out when this game was going on live, or at least the start of it. When I TiVo baseball games for viewing later, I usually add an hour to the designated time. Most MLB games are slotted for three hours, and I make 'em four. Given the 15 minutes of crap that Fox puts in front of the game, I made the extra time an hour and a half. And when did that give out? That's right, just before the last pitch of the top of the 11th. Felt kind of like this Charlie Brown picture here. It was seriously frustrating. Problem is I couldn't cheat and go to the live Channel 4 feed and pick up what happened after I stopped recording, as too much time had passed. TiVo has about half an hour of live TV buffer, so when my recording stopped, the live buffer took over. But when I hit the end of my recording, it was about 50 minutes after LIVE end of the game, so that buffer was lost. Auuuuuugh indeed! I was scoring the game on my iPad, so I switched over to the MLB At Bat app, and saw we had plated four in the bottom of the 11th. There's only one scenario where you can get a 4 in the bottom of an extra inning when the game is tied. It meant a walkoff grand slam. Even before I went and looked at the highlights or read the recaps, I went and blew off steam to my wife talking about. All I needed was about 10 more minutes. Oh sure, I saw it on local news recaps, on the MLB At Bat highlights video, but that wasn't the same. I was robbed. Thanks Fox for not starting the "right" game time! Bah! :)
Enough of rant. Get to the bottom of the 11th, and Michael Young and Adrian Beltre both single. I'd normally write about the tension at this time, but given I knew what happened before I saw how it got there, there was none. Napoli singled to load 'em up again. Surely we couldn't blow a win with bases loaded, nobody out twice, eh? OK, I'm faking it. No tension again.
Nelson Cruz came up, and on a 1-2 count….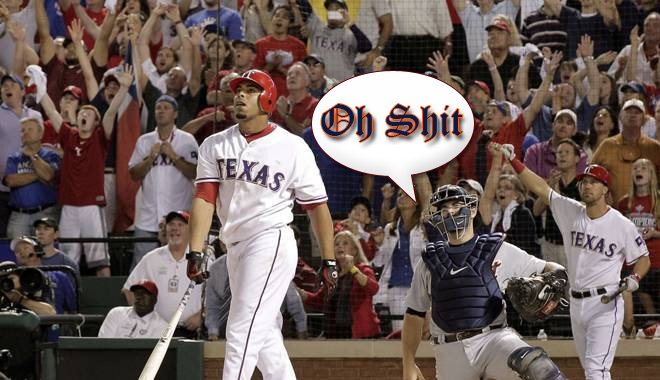 Nelson Cruz made history.. He hit a no doubter grand slam to win the game. While that was super important, and sends us to Detroit on a big high.. It was also the first time anyone had hit a walk off grand slam in extra innings in a playoff game. Ever. Never happened before. Let's see Andrew Bailey top that one. Click the Nelson Cruz drawing below if you don't know what I'm talking about. :)