October baseball continues, but for me, a first. I could watch it on TV, since it was on FOX. Fortunately, this year the Rangers are on Fox in the second round. So I sat down with my drink, my iPad, and watched the game. Speaking of my iPad, I just remembered that the scoring software I started using for 2011 allows me to email a PDF of the scorecard to myself. If you'd like to see that scorecard, click here.
Truth be told, I would have preferred the Yankees over the Tigers. The Tigers are a team we've had trouble with a lot in the last few years. Our record in Detroit isn't that good. A lot's been written about how this isn't the same team from earlier in the year when we played the Tigers. That may be, but I'm working on gut feeling here, not any measurable anything. I would have felt more comfortable going into the series with the Yankees than the Tigers. However, that's not what we got. We got the Tigers, and game one was CJ Wilson vs the (unannounced) 2011 Cy Young winner, Justin Verlander. I figure Verlander would be the hardest challenge we'd have, because he's Justin Verlander. All fairness to CJ Wilson, he's been a surprise the last two years as a great starter. But he's not Justin Verlander.
CJ started the game with a three pitch strikeout, and got the game off to a great first batter feeling. However, he let that feeling go by allowing two straight singles and then a walk to load the bases. Not the response you'd expect after a 1-2-3 first batter. However, he did induce a grounder to third, which resulted in a 5-3 double play, forcing the runner at second base. That was a little bit of a theme, as CJ got out of the second inning in the same kind of way on another double play. He was a bit wobbly for sure, but got the job done, and in the playoffs, wobbly doesn't matter. Getting the job done does.
Surprisingly, Verlander was just as bad early on. While he didn't allow any runs in the first inning, he did throw 25 pitches (as opposed to CJ's 20 in the first). Not the kind of outing you'd expect. While I don't believe he threw 25 again, he certainly didn't have many of the 7 pitch 1-2-3 innings either – if any. He was equally rocky, throwing 49 pitches through the first two, and 82 over 4. Verlander's outing seemed to me to have two main factors working against him.
The Rangers weren't swinging at most of the crap pitches out of the strike zone. It was a good job of picking up the pitches.
Verlander seemed to be getting squeezed. He was visibly bent out of shape on the mound a few times, and was seen talking to the home plate umpire. But it did seem to me that he wasn't being helped by Tim Welke at all. There were a few of those that directly benefited us.
CJ kept going past the rocky start and got into the groove. Struck out the side in the fourth. That inning got me to do a few fist pumps and a "Goodnight" from the sofa. Felt good after that inning. Enjoyed that.
Going back to the second, we got on the board first, which is always important, I think. Napoli started off the inning with a single. He was followed by a flyball by Nelson Cruz which I felt he just missed getting out of the park. Little worry though, as David Murphy followed up with a ball that landed right in front of the Rangers bullpen for a triple. Off the bat, it looked more like a can of corn, but kept going. That scored the first run, and I had a Rick Berman moment when Napoli was coming around third. Thought "Rumblin, Bumblin, Stumblin". While he's not quite Ryan Howard or Bengie Molina slow, he's certainly not Craig Gentry, either. :) Ian Kinsler later singled in Murphy which put us up 2-0 in the first. It didn't feel very secure, because of the wobbly performance of CJ up to that point, but after he settled down, I started feeling better.
One fun note, during the bottom of the second, my six year old daughter was still sitting on the couch with me watching the game. She had her magnetic doodle board, and was just doodling random stuff. In the bottom of the second, she showed me what her latest was, and I had a "proud baseball daddy" moment. See here, this is what she drew. :)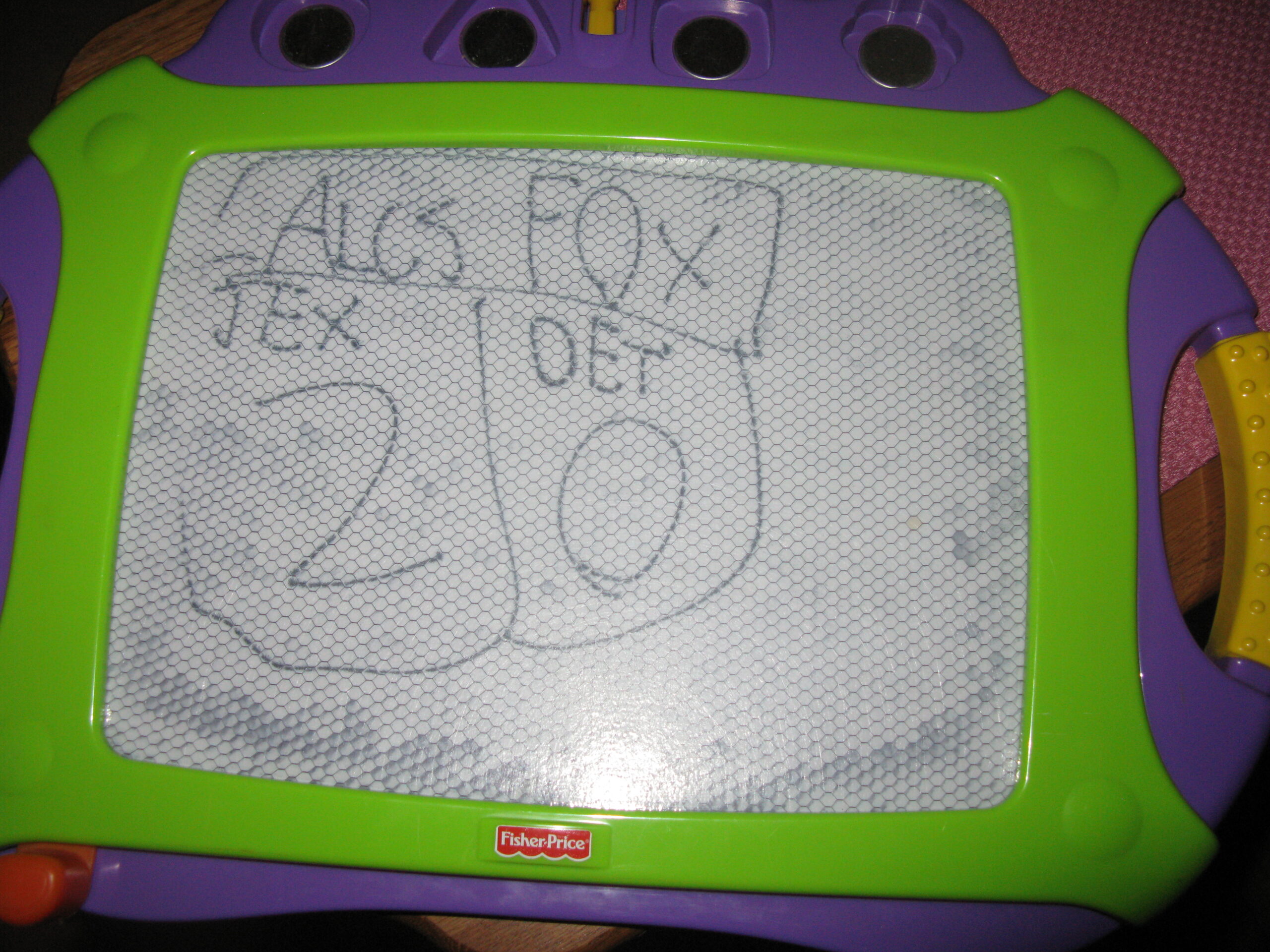 Bottom of the fourth though featured an appearance from the oft missing this year #boomstick. Nelson Cruz jacked one way back over the left field fence for a solo home run. That also ended the scoring for the Rangers for the game. The home run felt good.
Oh, as much as I lay it on Ian Kinsler for his "Capt Uppercut" personae, he did have some great at bats tonight against Verlander. His first at bat was an eight pitch walk. His second was just two pitches, but was a single. He was called out on strikes on his third, but it was a nine pitch at bat. His final at bat was a five pitch flyout against Perry. Went 1-3 with a walk, but saw a ton of pitches (24 over 4PA).
The rains came in the fifth. The first delay was about 45 minutes or so, and CJ Wilson came back out. There was a lot of talk they'd go to Ogando after the rain, but Wilson came out. Probably shouldn't have as he didn't have it anymore. The fifth went double, groundout, double, walk, walk, wild pitch run, ground out, intentional walk. The rain delay was in the middle of all that. So we went to rain delay again with the Rangers up 3-2, the bases loaded and two outs. Figured after the second, there was no way Wilson was coming back. But all that activity did also force Verlander out of the game. Normally you wouldn't want a pitcher out you were doing OK against, but there was some talk that he had "figured something out" during the first rain delay when he was pitching in the came.
A lot of people figured Ogando was coming back out when play resumed. But he didn't. Michael Gonazlez came out, and got his job done. Retired the one batter he faced. He was followed by Alexi Ogando who pitched two innings, and was pretty good.
In fact, all the relievers on both sides were pretty good. After play resumed following the second delay, there was no more scoring. I'm not going to write about most of the relievers, because they all did a good job. However, I need to mention Neftali Feliz.
He was GAS tonight. Just lit the guys up. The first batter (Ramon Santiago) had a bunt single that just got past Feliz, and was too slow for Kinsler to get. But after that, bam bam bam – Feliz struck out the side with some real GAS. It was one of the more dominating performances he's had this season. So much so, it made me wonder where that Feliz has been the whole season. It's ramped up for the playoffs and all – I get that, but man, after the bunt, he looked unhittable.
So we're up 1-0 over a pitcher who I'd say it's safe to say most Rangers fans believed we'd probably lose to. Game 2 is important, because I don't want to go to Detroit 1-1, where too much will be made of "the momentum has shifted" or "Tigers now have home field". I want to go to Detroit up 2-0, and with a real possibility of not playing any more at home. While I'd love to see the Rangers clinch and get to the Series at home, I'd much rather for a nerves standpoint have them clinch up in Detroit.
I'm writing this on Monday morning, the day after Game 2 was postponed due to rain on Monday night. It was rescheduled for about 3:15PM today. That time means I have to play "avoid the score" as I'll be occupied at that time, and won't get to get home and see the game till about 8PM or so. That won't be easy. :)