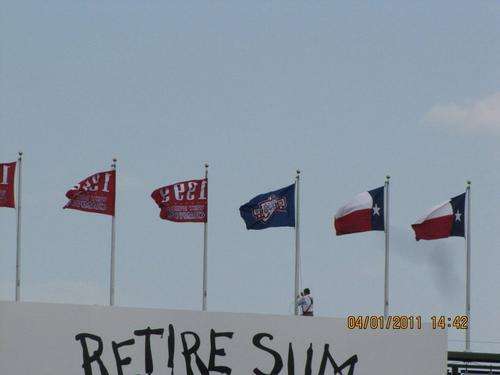 Well, if you've been reading my site the last few weeks, you'll know that I missed my first opening day in awhile. The last year I did not go to a home opener was 1996. I've ranted enough about the stupid lottery concept, so beyond this sentence, I won't mention it again. I did miss the tailgate stuff, though, but I still had fun at home. We cooked up some hot dogs, my wife made some brownies, and had a couple of friends from church over, one of which is a huge baseball fan. His name is Stan, and he's a bit older than me. I only bring that up, because he's seen guys from days gone by I can only dream of having watched. You know, guys from the era of Gehrig, DiMaggio, Richie Ashburn. I think he told me once he saw Babe Ruth as a kid, I can't remember for sure. Anyway, just thinking of all the baseball stuck up in that man's head is great. So he was my watching partner for yesterday's opening game. Plus the 46″ HDTV doesn't exactly hurt either, eh?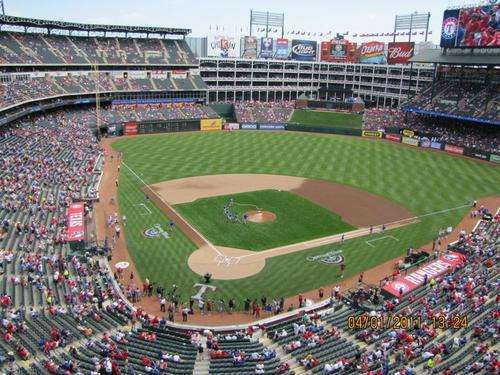 So after all the pomp and circumstance was out of the way, we got to some baseball. Was a great day for it, too. CJ Wilson took the mound as our opening day starter, and based on the way he pitched early on, I think the nerves got to him a bit. He was a bit rough early on, but settled down as he went along. Officially, CJ went 5.2 innings. He gave up six hits and four runs, although two of them were clearly not his fault. In the first inning, we got another Julio Borbon fielding misadventure. He and Nelson Cruz crashed into each other, and allowed a ball to drop, which led to two unearned runs. Much was made in the spring of Borbon's misadventures in center field. This certainly did not help. Whether it was his fault, or Cruz' fault, that he was involved was enough.
Texas got one back quickly, though, as Ian Kinsler jacked a leadoff home run on the second pitch of the game. That one was followed by a second solo home run in the bottom of the second inning. Cruz's home run though was one off the bat I thought was a jam shot fly out to left. Replays clearly showed the ball to be up and in. Not a place you expect a home run to come from. Even when the camera tracked back to follow the ball I thought it was still a fly ball, but it kept going. It was rather high, but not far enough back I thought. Wrong – barely went over the fence, but it was a home run. Rhadigan (or was it Grieve) had an interesting observation. That if this was Boston, Cruz's home run would have been a no doubter, due to the height of the hit ball, and the far closer wall (despite the height). Kinsler's would have been a ding off the wall.
CJ was a little wobbly again in the third, allowing his two earned runs. He wasn't awful, mind you, but enough happened in a row there to make you think "Uh-oh. That's it. He's not pulling through". But he got out of it with just two runs scored.
Going to the bottom of the fourth, we got another power boost by newcomer Mike Napoli, who had a three run jimmy jack in more or less the same general area that the previous two home runs had gone. Although Napoli's was far more clearly over the fence. I did say at the time that off the bat I thought it was going to go foul, perhaps hit the pole, but it stayed fair enough for a home run. I also commented to Stan at the time that this is old school Rangers offense. We had five runs, and all five were accounted for by the longball. Juan Gonzalez, Dean Palmer, & Rafael Palmeiro would have been proud of that outburst.
CJ Wilson got into a little bit of trouble in the sixth inning, but Washington pulled him. Also presumably because at this point, he was up to a total of 109 pitches. Which is a lot when you haven't cleared the sixth inning. I attribute a lot of that to not pinpoint control, and mostly to Boston, as they tend to work the count a lot. Still, he was relieved by Mark Lowe, who finished out the inning, not allowing anyone else to score. Lowe only threw seven pitches to get out of the inning. Nice work there.
It stayed scoreless until Darren Oliver allowed a solo home run to David Ortiz in the 8th to tie the game, and take CJ Wilson out of the running for a win. Blown save earned there, yeah. There's no real shame in allowing someone like Ortiz to get you, but man, to tie the game, that's the bad part of it.
Then in the bottom of the eighth came the put away blow. The Sox had tied it 5-5 in the top of the inning, but in the bottom, we actually started off with a simple flyout to right. Then Mike Napoli walked, and Torrealba singled to right. I believe I exclaimed out loud, "OK, now we're in business". Next up was Borbon, but they pinch hit for him with David Murphy. I was behind that, mostly on the more veteran player kind of move. Turned out to be rather fortuitious, as Murphy jacked a pinch hit double right down the left field line, scoring both Napoli & Torrealba. It was a right on the line shot, too. Kicked up dirt, and everything. You can see this play if you go to the "Video" tab of the linked "MLB recap" from the top of this post on my site.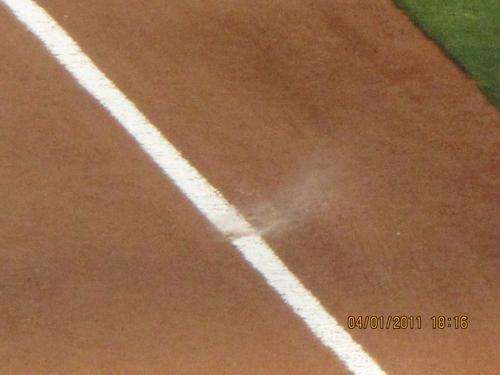 It didn't stop there. After an Ian Kinsler strikeout, we had two more doubles in a row. One from Elvis Andrus, and another from Josh Hamilton, which plated two more runs. Elvis scored Murphy, and Josh scored Elvis. That last one I was a bit disappointed in, actually, as it removed the save chance for Neftali Feliz. Oh well, never TRULY going to argue against scoring more, but I would have preferred Feliz get a save opportunity.
Feliz came in anyway, and 1-2-3'd the Red Sox. Two of the guys on a strikeout. The other one on a 3-1 putout, so Feliz was directly involved in all three outs.
To be flat out honest, I figured the Rangers would go 1-2 in this series, and while they still possibly can, I wouldn't have thought the "1" would come on the home opener. Glad to be proven wrong on that. I'd also prefer to be proven wrong on my 1-2 thought, as I'm going to the game tonight (I'm writing this on Saturday morning), and would prefer not to lose while I'm there.
I'll also have more to say about the new in stadium scoreboards and presentation after I witness a game, and get some pictures, and all that. :)
Big thanks to Stan & Sharon from our church who hung out at our place during the game. Had fun watching the game, and while I obviously would have preferred to have been at the game, I was thankful for the blessings of home, and the blessings of friendship we had which was just as enjoyable of an experience. Hope to do it again soon.
We're on our way to my pre-season prediction of 162-0! :)
Oh, the pictures used in this post were not taken by me, since I wasn't there. An old friend of mine, Rose East Conkwright allowed me to use a few of hers. Thanks, Rose!