Back in October when I was watching the Rangers in the playoffs, I wrote a little about a scoreboard image that TBS put out. They, like most networks (Fox, mostly) do this thing where they insert their own scoreboards into the stadium – usually during returns from commercials and whatnot. TBS showed the following image, which was a complete fake: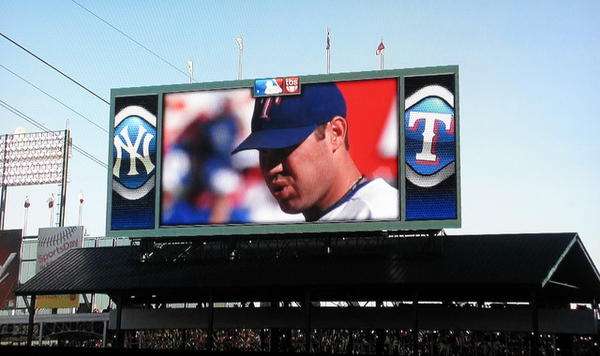 At the end of November, I asked Chuck Greenberg on his Facebook page what was going on with the rumored scoreboard improvements, and he said something was going to be announced shortly, and it was. Little did I know that TBS' fake image wasn't too far from what we are going to get in 2011. Look at this: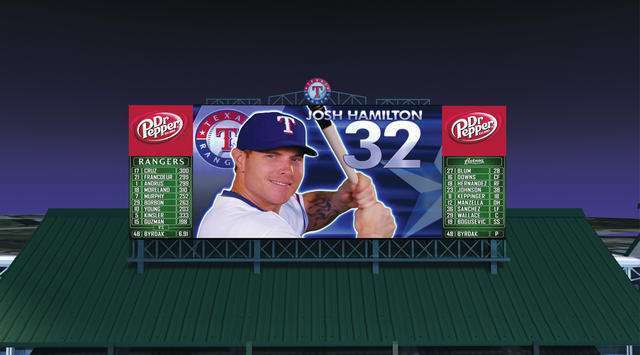 It was announced on December 2nd (yeah, I'm behind) that several new scoreboards will be installed in the park. The most obvious is the one shown above; the one above Home Run Porch. Here's some text on the sizes from the official press release:
The current video board on the roof of the Home Run Porch, which is 24 by 36 feet (864 square feet) will be replaced by a new board that measures 42 by 120 feet (5,040 square feet). In addition, a new video board that will be 25 by 29 feet (725 square feet) will replace the Coca-Cola matrix board on top of the office building in centerfield. The old video board used standard definition technology while the new boards will both be high-definition.
The scoreboard that is being replaced now had been there since the place opened in 1994. A few years ago (five or six now – I can't recall) the video board was replaced from it's 1994 original to a newer one. But that upgrade was essentially "the same thing". Meaning, it didn't go from SD to HD. It was a drop in replacement. It did look nicer than the original board, but it wasn't a sonic upgrade in quality. It still had the tiny square video board up there, which was microscopic compared to other things around. So while that was nice for a couple of years, it was time for an upgrade. So that fake TBS image got me thinking – why can't we do that?
I know the physical structure up there keeps us from having a scoreboard the size of Jerry Jones' behemoth. But given that restriction, I think what's proposed is the best we can do short of replacing the Home Run Porch, which I think nobody is in favor of. From the two press shots I have above, it looks like the entire board is capable of video, it'll be one giant video board up there. It will get broken up into "pieces" showing stats, ads, and whatnot. What I'm HOPING is that for video replays we get a full board reply of it, and not just a "square" or "rectangle" portion. I want the entire area to be a video display, like shown in the second one. I also hope these video boards get in on the party for the "Ring of Fire" bit that Chuck introduced a couple of years ago. :) However it's used, it will be a definite improvement.
There's also a replacement for the "Coke Bottle" dot matrix board in center field. Originally it was a lower tech dot matrix screen, and around the same time of the home run porch upgrade, it was a much higher quality dot matrix board. Now it's going to be a video board similar to the one in home run porch, according to the press release. That will be quite cool, although given I believe it's being dropped into the existing Coke bottle frame, it will be a square and not a widescreen board, so I wonder if there will be horizontal bars on it like there are with older TV's and widescreen footage. :)
Finally the video board in left field, which replaced the old manual scoreboard just two seasons ago will also be replaced with an HD video board. This is good too, because the same "small square" problem that plagued the home run porch video board plagued the video board on the left field wall. On top of it, the screen that protects the board from balls and players running into it gets in the way of being able to see it clearly. I wonder if there will be some other way to protect the screen, or the HD upgrade will help. Either way, that too will be an improvement. Having said that, the 2009-2010 left field board was great for non video information. The way Chuck used the board to display in game stuff, and other information was quite good. Just couldn't read any text shown on the "video square" due to it being too small, and the screen in front of the videoboard getting in the way. Will have to do a report once the boards are in and I can attend a game and see 'em in action.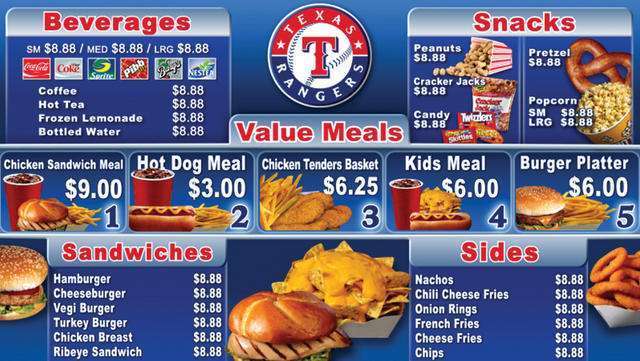 The new stuff doesn't stop with the seating bowl. All the TVs and displays around the stadium concourses and food stands will be replaced. In the press release, Chuck Greenberg called them (I'm paraphrasing) a testament to 1994 TV technology. I have to agree with that. There were MANY of them which were old, broken down, or worse, would display the entire screen in a yellow tint. They needed to go. The new system will be similar to what's in Cowboys stadium where all the video boards will be linked together, so their prices and displays can be controlled from a central location. The idea being when there's one of Chuck's new "Blue Light Specials", the prices will be updated everywhere at the same time. It should look and work out pretty cool. But just the mere replacement of the old shabby tube SD TV's around the park will help.
One thing though – there have been for a few years now advertising boards in the concourse that show nothing but advertisements. These giant video boards cause hell with anyone who is using a portable radio. I know they broadcast the radio signal in the stadium, but if you have all these video boards that cause incredibly LOUD interference when you get anywhere near them, it renders radios useless. I've had to stop walking anywhere near them, because the interference in my headphones is so loud it literally hurts.
Finally, they're upgrading the audio system too. Has this text from the press release:
The Rangers Ballpark in Arlington audio system is receiving a total overhaul with the old speakers being replaced and the additional of technology upgrades and production equipment to compliment the enhanced video product.
Some years ago the audio system was supposedly upgraded too (around the time Chuck Morgan came back from Kansas City if I remember right), and to be honest, it didn't make a whole lot of difference. Hopefully this upgrade is more successful.
So I'm definitely interested in all these upgrades. Somewhere when this happened, these upgrades were referred to as just one of the ongoing ballpark upgrades to come. There was some talk about replacing all the static boards above the center field offices with one giant video board that ran that entire space. I'm hoping that's part of the following off season's video upgrades. Chuck also said something about ballpark changes not changing the overall design of the park, that he'd complement, not change. This would explain why the oft told story of replacing Sections 301-306 with a giant video board out there won't be happening, either.
I also hope they can remove the Cuervo Club and restore the natural wind balance to the ballpark, but that's probably just a dream, sadly.
The Rangers have a four and a half minute long video on their site showing these changes via a "virtual flythrough". Click here to check that out (if MLBAM ever gets off their butts and allows video streaming, I'd have it here).
Sorry for the delay in getting this online. I know it happened about 7 weeks ago, but I kept getting distracted by other stuff, and I wanted to give this the writeup it deserved, not just say "Hey, read the press release". :)