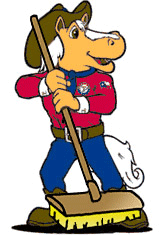 A lot has been made about how bad Cliff Lee has pitched his last few outings, and that if it continued, he'd be disinclined to stay here. I think the biggest thing that can help us stay here is not Chuck Greenberg's money, it's us getting into the playoffs and doing something once we get there. Not just repeat the 96-98-99 performances. So it was quite gratifying to see Cliff Lee pitch like Cliff Lee on Sunday. He weight eight innings plus, throwing just two hits, and allowing one run. He walked a few too many for Cliff Lee (three), but when he came out of the game, it didn't look like he HAD to come out, but I understand why. His last batter was a call that was really quite a bad call by the home plate umpire. Should have been a strike. It was called a ball, and Lee came out. The whole walk from the mound to the dugout, Lee was glaring at Alfonso Marquez. The amusing thing is when the game was over, and Lee was walking to the mound for the celebration, there was more glaring in the direction of Marquez. Not that I think Lee really NEEDS motivation, but that kind of thing probably can't hurt. Hopefully his back really is better, and we get this Cliff Lee as the rest of the season and into the post season gets here. It will be needed, that's for sure.
On paper, assuming the good Cliff Lee showed up, I figured this was the easy win of the series. Moseley? Oh come on. That's not a real Yankees pitcher. That shouldn't have a been a problem, but it was. Through six, we hadn't managed a lot, the game was tied 1-1. Then Moseley ran out of gas, and we got to him. In the seventh, we had four straight two out singles, which pushed across the three runs which gave us the series sweep.
I know a lot in the press is being made about how we didn't face Andy Pettite, how we didn't face CC Sabathia. No, we didn't. BUT, we swept the Yankees. That helps in the "head game" department, and it made things difficult for the Yankees against the Rays, who are hot on their heels.
Wow. Swept the Yankees. Now if we can only do it in October, I might have to be come forth with a Philly style response to the Yankees ghost of the playoffs, since I found out that more people than I knew got a kick out of a msg I left for the Yankees during the World Series last October.