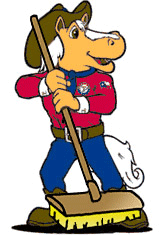 Long time readers of my blog here know that I tend to call games with 20 runs and 35 hits "no pitching" games. If you look at the box score, that is backed up.
The Orioles used four pitchers. The Rangers used five. Of those nine pitchers, only two escaped with no runs scored on them. Those were Darren Oliver, who was the best all night, giving up no hits (although 2BB) and no runs in his 1 inning of work (5 batters). Neftali Feliz also was unscored upon, but he only went 0.1 innings, facing just a single batter. The rest of them? Definite "MEH".
Feldman was better in this game than he has been, but despite him getting a "W", he probably didn't deserve it as such. He's definitely not 2009 Feldman – I hope he discovers it again before too long. 12 hits and a walk in six innings of work is an awful lot. Not often a pitcher is in there long enough to give up that many hits, not unless he pitches into extra innings himself, which is never done anymore.
The Orioles starter (Brian Matusz) was worse, as he lasted just 2.1 innings, and gave up 7 earned runs on eight hits. Bleargh.
The only Rangers batter who had no hits was Joaquin Arias. Justin Smoak pinch hit for him, and got a hit. Arias was an interesting case, as he started at first base, something he had never done before. Josh & Tom made remarks like he looked out of place there, somewhat uncomfortable. But he didn't commit any errors over there, so that's a good thing.
But offensively we were led by Nelson Cruz, who went 4-5 with 3 runs scored and 4 RBI's – powered by a first inning three run home run. Definitely a big night for him. David Murphy was 3-5, and everyone else had at least two hits except Smoak, who pinch hit, and Arias who took the lone ofer. "Offense all over the place" as I like to say.
It's also the second time in a week I've gotten to use my sweep graphic, and both of them on two game sweeps. That still seems weird.