Half a dozen seasons ago when the Rangers came out with their then new logo, the circular Texas Rangers logo… A lot of people were kind of "meh" about it. Some people (like myself) didn't care for it. To be honest, I said at the time it looked too much like the Montreal Expos logo. I thought it lacked imagination.
But this morning, I realized the real reason they chose that. It looks like zero! Which is the number of times this team has won in the post season, and also the number of runs they seem to like putting up in late 2009 – when it matters! I mean look at it. It LOOKS like a zero, it's like we're being mocked. MOCKED I TELLS'YA!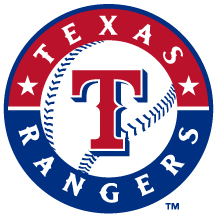 Pretty darned sad. It's what, about 600 innings in a row now without a run? And 1,433.2 if you add in David Murphy's solo home run from a few days ago?
Five in a row.
Zero for five games (27) with runners in scoring position.
One run in the last 46 innings
7 1/2 back in West with 16 to play
7 back in Wild Card with 16 to play
The Angels Magic Number is 9
The Red Sox Magic Number for the Wild Card is 10
If anyone was still holding out hope (I kind of sort of still was even though I said they were done after Tuesday), forget it..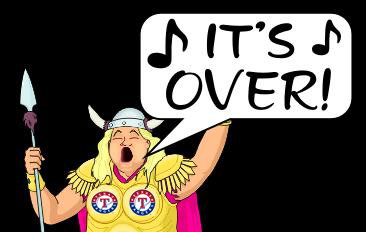 The only thing I'll say about this game individually is that catch that Nelson Cruz made in right with the bases loaded in the second was really quite good. Kept things from getting out of hand, really. Like they weren't already in the larger scale.