I picked a heck of a game to get back into this with. Earlier in the afternoon, I plowed through the ten previous games I had skipped after deciding to take a break. As you recall, I lost my job back on the 6th, and wasn't quite in the mood to write about baseball. I wanted to wait till I got to a moment that I felt like writing about. So I wrote a little about the games I skipped (as my new schedule page kind of forces me to have an entry for each game). The rain delay was fortunate, as it gave me just enough time to finish after the game had actually been going on for only 10 minutes.
Early on, Vicente Padilla gave up a run in the first, but it was on an uncorked wild pitch that allowed Chone Figgins to score. That was a dumb run – Padilla's body language even implied he knew that run shouldn't have scored. A pitcher can't always control runs scoring, but one scoring on a wild pitch that far outside really was his fault. Still, it was just one run. Then we get to the bottom of the first, and I have to say, it was quite entertaining…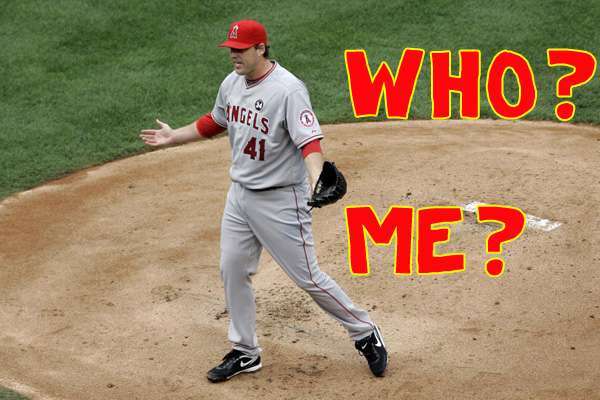 John Lackey was making his first start of the season, having been on the DL. The first pitch he threw was behind Ian Kinsler's back. Which Ian didn't flinch over. Usually pitches like that garner some sort of response, and I don't mean a retribution kind of thing. A flinch, a dive, something. Nothing, he just stood there. Then the second one plunked Kinsler in the ribs, prompting an immediate ejection from home plate umpire Bob Davidson. I actually laughed at that – of course Lackey & Mike Scioscia came out and argued, but when has an ejection ever been reversed? The deed was done, and it did seem a bit fishy that he was that wild – Lackey's a really good pitcher. Still, my first thoughts lept to – "OK, here comes their bullpen, which is strapped", and of course you then think of what happens tomorrow if their starter gets torched, too. :) As a Rangers fan, you love Lackey being ejected. As an overall baseball fan, well, it might have been harsh, but Lackey pitching that way did seem fishy. Perhaps it's the beanball war the two teams have had creeping in there. Either way, it kept Lackey off the mound in Arlington, which is always rough for Texas.
Kinsler ended up scoring after a sac fly by Josh Hamilton in the bottom of the first. The following inning, the Rangers scored two on a single by Jarrod Saltamacchia. The Angels scored two in the top of the fourth on two separate singles. The Rangers countered in the bottom of the fourth with two of their own. One on a single, and the other on another sac fly by Josh Hamilton. What's the point of running all the scoring together like that?
Well, of all the RBI's in the game, they were all singles, except for the sac flys. In fact, for both teams combined, everything was a single, except for a double by Nelson Cruz. 17 of the 18 combined hits were singles. A definite no power game, that's for sure.
Vicente Padilla had a real Weeble outing. Why? He wobbled, but he didn't fall down. He really looked like he wouldn't get out of the fourth, then put it together, and threw four more shutout innings. In all, Pidente tossed eight innings, giving up three runs on ten hits (with three walks). There probably would have been fewer walks, but there was a definite pea sized strike zone this game. Wasn't just Pidente, either, all the pitchers were being squeezed. CJ Wilson came in and got the save, because Frank Francisco was placed on the DL.
But the bottom line was that the Angels bullpen threw nine innings. That will probably hurt them somewhere soon, if they don't bring up some fresh arms to counter.
We've now won six games in a row, and are three and a half games up in first with a 22-14 record.
WHERE ARE ALL THOSE WHINERS ABOUT HOW WASHINGTON NEEDED TO BE RUN OUT OF TOWN NOW?
Yeah, that's mostly Randy Galloway I'm talking about. I mean what can you expect from someone who has the following quote on his Myspace page? "I love the fact that i can run anyone's name in the ground and there's nothing they can do about it." Yeesh – tells me he's more interested in writing about himself, than the sports or people.