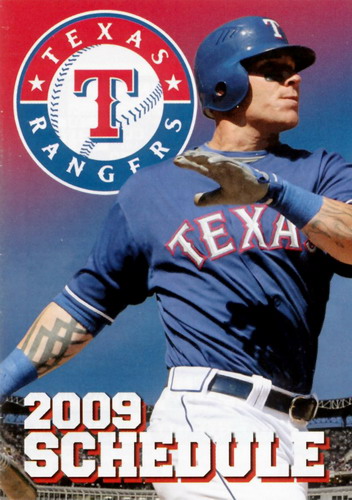 One of the lesser used pages on my site is my archive of Texas Rangers pocket schedules. I've been collecting them since just before I started this site (Dec of 1998), and a few years ago I decided to fill in the holes and get every one ever made. The problem with that is that my research has turned up a lot of alternates. There's Spanish versions, multiple English ones, spring training schedules, etc… So a list of what the complete archive comprises is not available. Still, I've been trying to at least get all the years represented. Today I've done that.
Before I get to that, I wanted to draw attention to the first 2009 edition that I've seen myself. Features Josh Hamilton inside the ballpark. It shows off some of the more prominent tattoos on his arm, and given how great of a season he had in 2008, he probably deserves to be on the pocket schedule for 2009. That image is shown here. Based on what I've seen, there will be other 2009 variants, too. If any of you reading this are going to spring training in Surprise, can you pick me up a pocket schedule for spring training? They've had them in the past, and if they have one this year, I'd like to get one. Thanks.
As for the archives, I was fortunate to be sent an email from a Claude Jacques recently which completed the task of getting all the years on my archive. Claude runs a website dedicated to collecting pocket schedules. He's got just about every team in every sport, in every level of majors and minors you can think of. It's QUITE extensive. He was kind enough to send over everything he had relating to the Texas Rangers. After I went through and weeded out the duplicates of things I already had, he gave me 28 pocket schedule images I did not have before. I now have every year from 1972 through 2009 represented, and that's pretty cool. Of the 28 new ones, below are a few highlights of ones he sent over that I liked the look of.
Make sure to check out my archive of schedules where you can see everything I have. As usual, if you have a variant I do not, or you have a larger/better quality version of something I do have, please drop me a line. Thanks.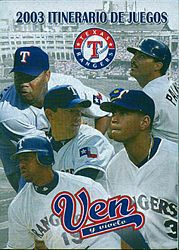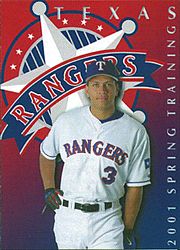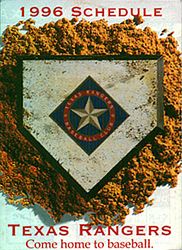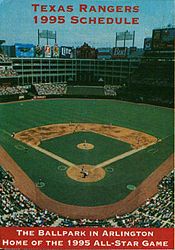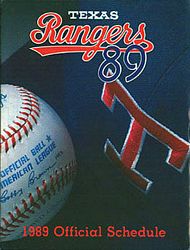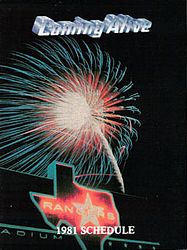 Pocket schedule design has come a long way from this one in 1972, eh?