This was one of those games where you had a sinking feeling as it progressed. There wasn't any one incident where you go "AHA! – That's the problem!". It was one of those where Kevin Millwood was not terribly sharp. He wasn't a complete pile of suck, but he wasn't the good Millwood we've had this year. The Royals were picking away at Kevin over the game. KC got single runs in the first (Guillen single), fourth (Buck single), and fifth innings (Gordon home run). We countered with a run in the top of the sixth (Hamilton FC), but KC got a two spot in the bottom of the frame (Aviles single, Gathright single), killing any good vibes from the top of the inning.
So we go into the down 5-1, and to be honest, I almost turned off the game. My family went out to a nice dinner at a restaurant downtown with our church group, and by the time we got back, got our girl down to bed, it was late, and I was in a post Mexican food coma in the first place. Good thing I didn't give in to that, because the top of the eighth was a great inning to be a Rangers fan. It started out like no big deal, with two quick outs (Vazquez groundout, Kinsler fly out). But the the fun began. Michael Young walked, and then the huge break of the game, Josh Hamilton reached base on a fielding error by Mark Teahan at first. It should have ended the inning, but it was allowed to continue. That was the floodgate key we needed, because it was immediately followed by first a pitching change (to Brett Tomko), and then:
Double by Milton Bradley, scoring Young and Hamilton
Single by David Murphy, scoring Bradley
Pitching Change (to Yabuta)
Single by Gerald Laird
Single by Chris Shelton, scoring Murphy
That tied up the game at five, and it was quite a moment. You kind of wanted to take the lead then, especially as there was a walk after Shelton's single before the final out was made. The momentum was going, and you wanted to take the lead right then. But we didn't.
We did in the ninth. It was funny, Josh Lewin & Victor Rojas were talking about how the Royals reliever Ramon Ramirez has a habit of uncorking wild pitches. Turns out he was let down by John Buck who had a passed ball, allowing Ian Kinsler to score the winning run, setting off a celebration by Milton Bradley on the base paths that might be one of the most excited things I've seen a player do on the field, outside of winning a championship or in one of those walk-off mob scenes.
I did manage to see all this, and didn't succumb to the Tex-Mex coma I was dangerously close to falling into. :)
I'd be remiss if I didn't say something about the new giant scoreboard in center field. I mean, this thing was bloody massive! Check out this picture I saw over at the Royals site in the section they have about their overall ballpark renovation: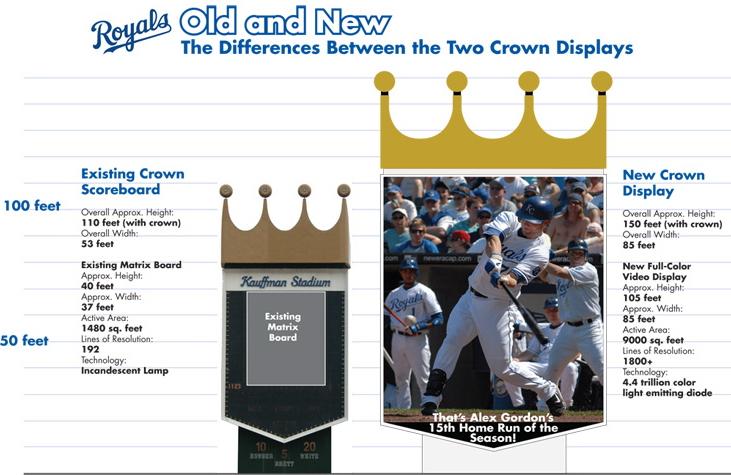 I mean it's friggin HUGE! They didn't even have the crown topper on it – there was a shot of the crown lying in disgust in the dirt out back. But even without that, it's gigantic! I read a bit about it, and I believe it beats the previous record holders for scoreboard size (UT Austin, San Francisco, & Atlanta). All these giant boards are really making the little tiny thing in our ballpark look like a joke. We need a REAL scoreboard, Chuck. I know it's not up to you, but we need something that doesn't make it look like we have a tiny little old black and white 10 inch TV set in comparison. The problem with our park is even if you did have a scoreboard that huge, where would you put it? Can't put it where the current board is. You'd have to do something like Cleveland did, but we'd have to rip out say Sections 301-306 or so in the ballpark. Not that anyone sits up there except for opening day anyway.
Come on Nolan. Push Hicks into it!