This game got off to the start you want to see in a home game. Seven runs and multiple home runs before the second inning. We were up 7-0 after two, and 9-1 after five. But as some baseball players might tell you, a ton of runs (even 22 of them) isn't always enough.
The Rangers got out to a 9-1 lead due to the longball. This was an extremely windy night, and even the changing of the wind with the Gold Club probably wasn't responsible for this one – it was REALLY windy. It was one of those games where hot dog wrappers and All Star ballots were blowing all over the place. Not quite like that footage from Pittsburgh from the 80's where it was a mini tornado, but there was enough of it. Kind of like this picture from the August 6, 2005 game…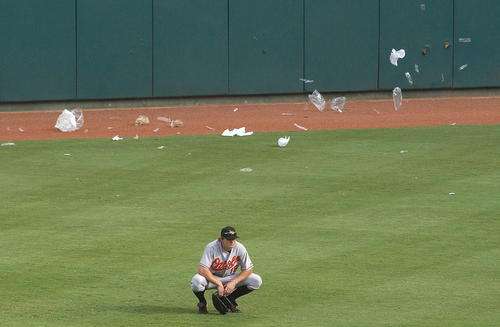 That's significant, since several of the home runs balls (David Murphy's to left in particular) were severely assisted by the wind. Now they weren't all windballs, but most were. One that was not was Josh Hamilton's first career grand slam, which came in the second inning. That was Josh's only hit of the night, but it was a good one.
There was a lot of offense, as the score would indicate. Every Rangers starter except Chris Shelton had at least one single. There were five home runs in all (Bradley, Murphy, Hamilton, Boggs, Laird). In addition to Hamilton's first career grand slam, it was Brandon Boggs' first ever major league home run. The other eight hits were singles.
Things were going great until the seventh inning when we couldn't get anyone out. The Rangers threw out three pitchers in the seventh (Millwood, Francisco, Wright). Didn't seem to make much difference. We gave up a five spot that inning, which made things 9-6 at that point. OK, nowhere near as good as 9-1, but we're still winning. We got the lead up to 5 again with a two spot (Murphy's HR) in the bottom of the seventh. Then we got to play nail biter again, as we gave up three more in the 8th and 9th, to make the game's final score what it was.
Don't like endings like that. Like when we get out 9-1, and the margin stays that way.
Still, a win is a win, and we're now 10-18.