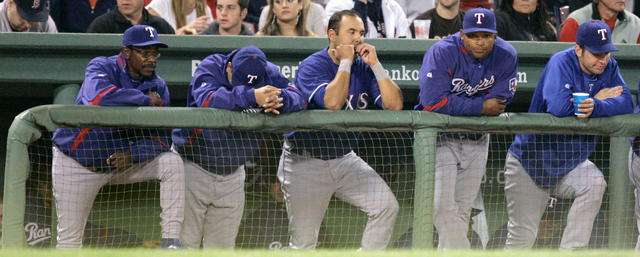 That picture pretty much says it all, doesn't it? As a habitual nail biter myself, I can understand Gerald Laird's doing so here.
This game was a mess. Of course, the big blast was David Ortiz' grand slam in the third inning. Mendoza's outing really hurt the overall team pitching. TR Sullivan said it very well, with this:
Mendoza gave up seven runs in all, as his ERA went from 1.80 in his first two starts to 9.00. The Rangers' rotation ERA also went up from 3.65 — third best in the league — to 4.18.
Ugh – ugh – UGH! To add to the lovely overall performance, we had another error, this time by the guy wearing Rusty Greer's old number; Jason Botts. All three Rangers pitchers (Mendoza, Rupe, Nippert) gave up runs, although one of Nippert's was a result of Botts' error.
Rangers batters had only six hits overall. Only one was a single. Four doubles and a home run. The home run was Hank Blalock's, and the swing reminded me of that home run he had in Chicago a few years back in the All Star game. It looked nice.
In all a pretty craptacular performance by the Rangers out there.