Vicente Padilla went six innings, but it wasn't just enough that he went six. He gave up a bunch. But not right away. He was pretty darned good through the first inning, then had a Chan Ho Park moment, and just totally lost it, giving up a four spot in the sixth. It wasn't pretty. He then had another scoreless frame in the fifth, but gave up a fifth run in the sixth inning before exiting the game.
But what bugs me most is the three errors the Rangers had. One by Frank Catalanotto and two by Gerald Laird. This is way too many. If my count is right, we have more errors (12) than games played at this point (10). That's just pathetic. Our guys are better than that. We seem to be playing generally pretty good so far this season, but the errors are disturbing.
Kaz Fukumori continues to NOT be the pitcher he was in spring training. In spring his ERA was zero (or close to it), but his ERA in the regular season after tonight was a sparkling 32.40 (!). In his one third inning of work, he gave up four hits, three runs, plus a walk. Not good at all. He just didn't look good – not even close. Ugh.
Dustin Nippert who had an ERA of about a billion after his first outing came in and did a good job, going 2 2/3 innings, and only giving up two hits with no runs. That helped, as we did make a late charge, but it wasn't enough.
The Rangers had eight hits in all. Five singles and three extra base hits. One was a double (Ian Kinsler), and the other two were home runs. Hank Blalock had a solo shot in the first, but the other was by Josh Hamilton, who I believe everyone was just waiting to see his power. He delivered in the seventh inning with a titanic home run which not only went into the upper deck in home run porch, but.. It went out one of the walkways for the section, and presumably kept rolling for awhile. It was a seriously impressive home run. I've been out there, and I know what it looks like from way out there. In fact, here's a picture from my seat selector showing you what the view is like from there. Keep in mine the actual landing spot of the ball would have been about 15-20 feet above my head in this picture.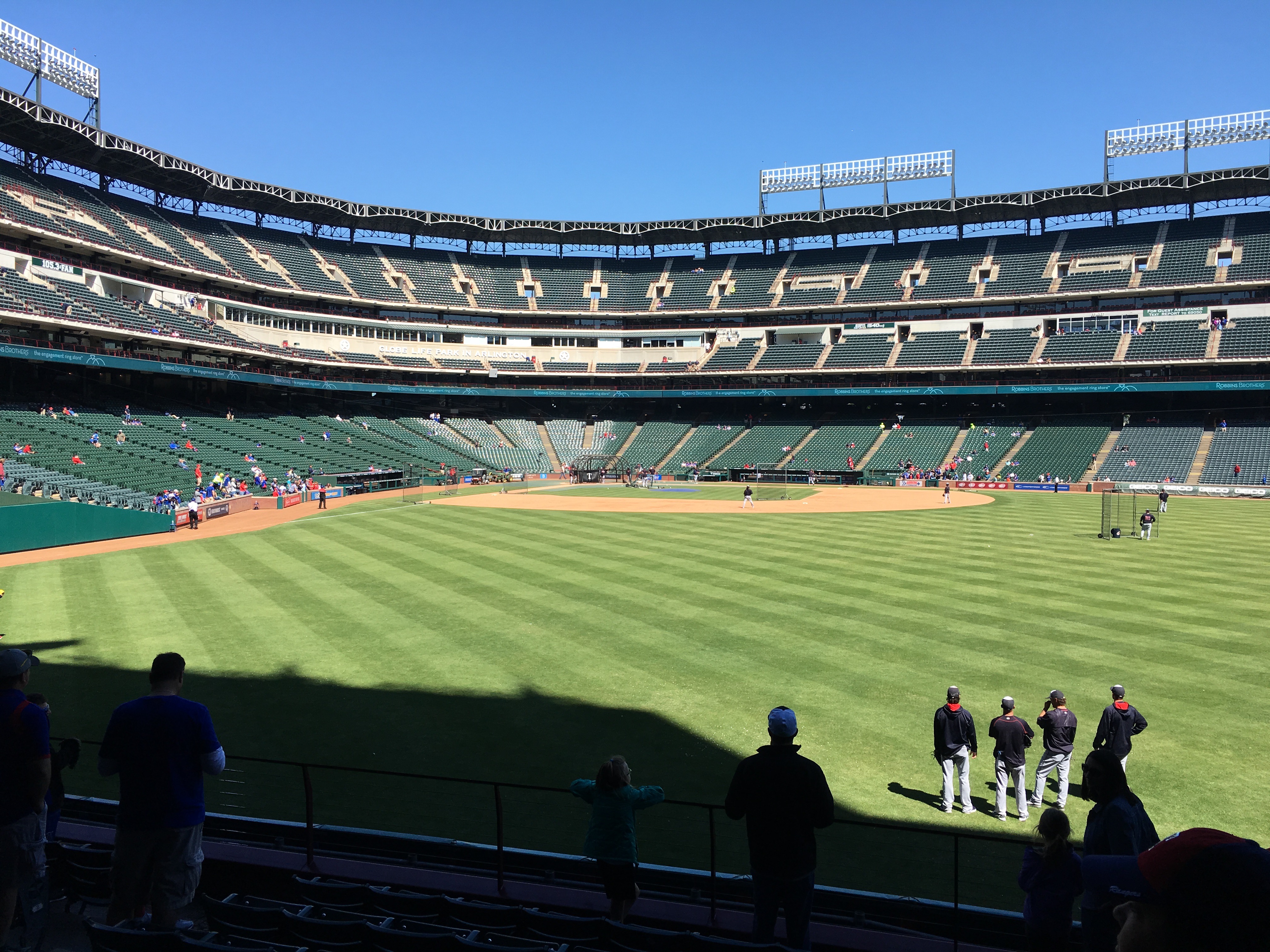 On another note, Frank Catalanotto is getting off to another ice cold start, just like last year. He was decent enough towards the end of the season, but we need that output now. His average is a measly .105. That's pretty darned awful. Of course, Marlon Byrd is batting .053. Bleargh. :(
Overall we're not doing good, but I don't like these games that just get away from us. It probably wouldn't have been so bad if it wasn't for Fukumori's horrendous outing.
Oh well, there's always Saturday night and game 2.