This was another one that I didn't get to hear. It was being "webcast" on mlb.com, but didn't use either SF or TEX broadcasters. That's not normally a problem, but my wife and I were dealing with a family emergency most of today, and sitting in front of my computer to listen to a baseball game was not an option.
So I was enjoying it when I peeked in at the line score, and saw we were up 4-2 early. That's always a nice thing to see. So imagine my surprise when I look further over and see that the Rangers have NO hits, and one Giants error. Oh boy, this ought to be interesting.
So I look down and see Noah Lowry pitching for the Giants. OK, not a world beater here, but definitely someone who has had some success at the major leagues. Holy CRAP! What is that line?
IP   H   R  ER  BB  SO  HR
SAN FRANCISCO
N Lowry                           1   0   4   4   9   0   0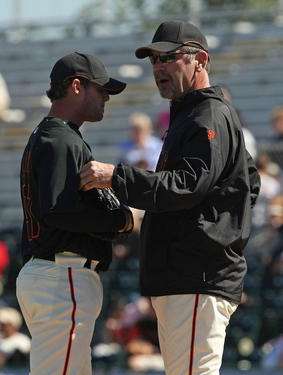 What the heck? Nine walks in one inning pitched? NINE? Well, it turns out seven of them were in the first inning, and the other two were from when he went back out for the second (WTF!), and walked the first two guys. According to the box score, Lowry faced just 12 batters. Walked 9 of them. That's gotta be some sort of record – that's quite amazing. Now I didn't see it, but one envisions Rick Ankiel's pitching meltdown, only worse. This must have been a meltdown of epic proportions.
Anyway, SF's pitching gave up a total of 15 walks in this game. That's just NUTS. That's more walks than actual hits the Rangers got (8). The Rangers actual bats were pretty scattered. Of the 8 hits, only Travis Metcalf had more than one (2); the other 6 were by 6 other Rangers.
The game score was a bit of a seesaw. We were gifted four runs in the top of the first, then gave up two in the bottom of the frame. SF put up two more in the fifth, tying it. Stayed that way until the top of the 8th, when we put up two more. However, SF scored twice in the bottom of the ninth, taking into extra innings. The Rangers then proceeded to score twice more in the 10th inning, winning it.
Despite all the walks by SF, they had a couple of guys who did pretty good. Valdez & Corria combined to relieve Lowry, going 5 innings combined, allowing no runs and just one hit apiece. Vinnie Chulk also threw a scoreless frame, but Steve Kline & Randy Messenger did NOT.
On the flip side, this was a mix of pitchers we know, pitchers that are just there, and guys I've never heard of before. Of the pitchers that have a realistic shot to be with us in April… AJ Murray was not great in his start. Gave up two hits and two walks in one inning. Just two runs as well. Jamey Wright looked good, putting in two innings of one hit, shutout ball. Robinon Tejeda stunk up the joint again, giving up 3 hits and a walk to combine for two earned runs. Most of the guys put up zeroes, except for minor league callover Tommy Hunter, who gave up 4 hits and 2 runs in his inning.
As I mentioned before, we weren't that great offensively. Of the 8 hits we got, two were doubles (Murphy & Metcalf); the rest were all singles. We were gifted four runs via all walks in the first. Our RBI's were fairly efficient too. Pedro Borbon had 2 & Travis Metcalf had 2. The other four RBI's were scattered (and two of THEM were just sac flies).
Overall, you can't argue with essentially a gift win, but it's nice to see us in in the 10th, as opposed to the loss we usually get when the game goes just ten innings. :)