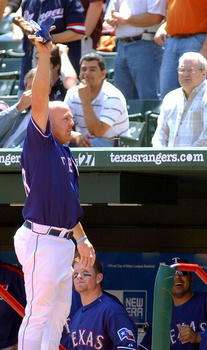 As has been reported the last couple of days, Kevin Mench has signed a minor league deal with the Rangers that includes an invite to spring training. Let's hope this repeat appearance of Shrek is better than the most recent repeat appearance of Shrek in the movies. Blech.
Several stories in the last few days said that the Rangers were asking for a guarantee that he would accept an assignment to AAA should he not make the club. The Dallas Morning News is reporting that was part of the deal, but it's not indefinite. That's because there is a reported condition that if he's not added to the major league roster by June 1st, he can request his release from the club. Kevin doesn't strike me as someone who is beyond his days to be stuck in AAA going downwards. I suspect he could hook on with someone if he's not here past June, so I expect he'll be gone if he's not in the majors. The deal calls for a $600,000 salary if he's on the opening day roster, although it doesn't say how much he gets if he gets called up later; probably a prorated number from that salary.
It makes the competition for the OF a bit more crowded. I would see his main competition being David Murphy ( who was wearing Kevin's old uniform number last season), Jason Botts, & Nelson Cruz. Cruz is probably on his last straw with the Rangers, and Botts probably isn't serious competition, as he's not the best outfielder around.
Be nice to have him around again. I wouldn't mind seeing the commercial with him and Rangers Captain back on the airwaves – that was one of the funnier ones around. Actually the Rangers site says it's available, but since mlb.com switched to a new media player, a lot of their older clips like this are all broken. Figures.
This is really a no risk move for the Rangers. My gut feeling is that he doesn't break camp with the club, though.