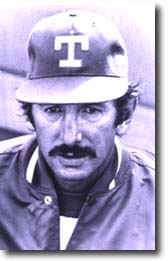 Thanks to TR Sullivan for pointing out that it was 34 years ago today (Sep 9, 1973) that Bob Short, the man that brought the Rangers to Texas (as the owner), fired Whitey Herzog, and replaced him with Billy Martin.
Given my age, I know Martin from his dirt stomping fiascos in New York. When Martin was a Ranger, I was 8 years old, and if you weren't the Philadelphia Phillies, I didn't care. Billy Martin should get credit for the first really good Rangers team 84-76 record and second place, and won Manager of the Year. Of course in typical 70's Rangers fashion he was gone the year after that. I wonder if Tom Grieve will mention this during Sunday's game, as he did play for Martin as a Ranger.
On a more generic topic, I wonder if there will ever be a video produced chronicling the managerial history of the Rangers. I admit to knowing the names of our managers in the 70's for the most part, but not much about their time here, tell you the truth. I'd love to see something like that, especially if it included video clips of all the guys. I wonder if any video even exists of Eddie Stanky's game.