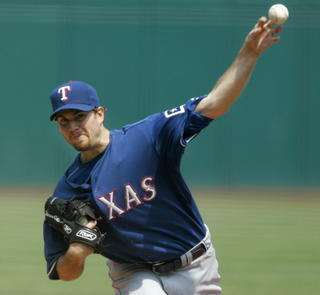 Jake Westbrook got his second win of the season. On August 2nd. Against us. Figures. It was his 13th start of the season, and only his second win. He pitched like he was Roy Oswalt, which he is most definitely not. That's usually when pitchers do things like that. Westbrook was pretty much in control, going six innings, giving up 5 hits and one walk and five strikeouts. No runs, obviously. Pitch count was a bit high, 103, but it didn't matter. Cleveland's relievers went 3 innings, two hits, no runs. We were shut out.
The Rangers had seven hits in all (including two doubles (Young, Botts)), and that's usually enough to push across a run or two, but we couldn't do that. Was pretty much an ineffective offense today.
Kason Gabbard made his Rangers debut today, and wasn't that bad. He went 5.2 innings, gave up 3 earned runs on eight hits and one walk. Struck out four. It was cool to hear that outside the strikeouts, his outs were all on the ground except one fly ball. Shortly before Gabbard came out, Eric Nadel uttered the phrase "Jason Gabbard has been a ground ball machine today." That will be good in Arlington. Makes you wonder what we'll do when Vicente Pidente comes off the DL. Almost makes you wish we hadn't have signed him, eh? Still, Gabbard was pretty good, if not great today, so it's something good to build on, I would think.
And finally, I wanted to have a mini rant about the KRLD post game call in show. The first 3-4 callers to Mike Ogulnick are prime reasons why I don't like listening to call in shows. The guys who said "we've been in a rebuilding mode since 72" & "we're the AAA team for the rest of MLB" are exactly what I mean by short sighted, knee-jerk "fans". When you say silly things like that, it completely discounts everything else you say, and make someone who really knows baseball want to shut off the radio (which I did). I ranted about this the other day about the Teixeira trade, and I won't go into a full rant here, but dammit – where's Steve Busby when you need him? Ogulnick wants to be everyone's friend. Come on man, call some of these people morons like Busby used to!