OK, Teixeira has been traded. I can't say that surprises me in the least. Even with the Boras factor ignored, I don't think many Ranger fans thought he was going to stay here. Those comments he made a couple of weeks ago regarding "fun conversations with Baltimore in a year and a half" were pretty damning. I can't speak to his "happiness" here, as I'm sure we'd get the Bull Durham lines about wanting to help the team win, etc… But I think most everybody seems to think it was inevitable that he would be moved.
So OK, that leaves a few possibilities. First, we keep him through his final arb year of 2008 and let him walk at the end for draft picks. That was so seriously not likely to happen, I can't even fathom it being thought about. Second, we trade him. If you trade him, that gives you three realistic options. Trade deadline now. Trade deadline in 2008, and the off season between 07 & 08. If you are going to trade a player like Mark Teixeira, you want to maximize the value you get for him. That's actually what you generally want to do in any trade, but especially for something like this.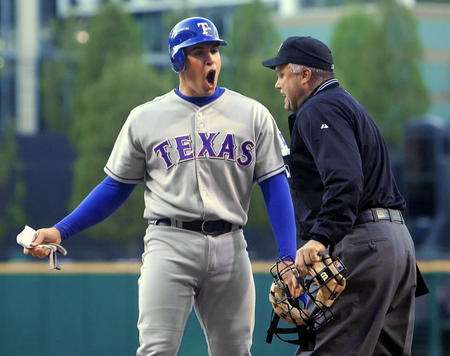 So OK, we're trading him. You go out and see who wants to take a player who will likely get $12 million in arbitration next year, the final year of his contract, where it's widely expected he will go out on the market and not just automatically resign. That kind of rules out trading at the deadline in 2008, since it would be for just two months, and you're not going to get a ton of value if you trade him 12 months from now. I also don't think the offseason is the best time, the best time to trade him if you're trading him at all is now. At least this way we can have a handle on what other pieces we might need in 2008 when we go into the offseason in October.
OK, we've arrived at now being the optimum time to trade him being now. So you go out there and see who wants him? While he is under control for next season, as I said he's arb eligible, which means he's likely making $12 million next year. That fact alone limits some of the teams. Plus not everyone will need the player as they have others there already. So that narrows it down. The widely talked about teams in this trade scenario were the Braves, the Angels, and the Dodgers. Heard the Diamondbacks in the last couple of days, but my gut says that wasn't a realistic option.
So OK. You then look down what each team offers. I know most people will scream "pitching please" as a return. As would I, but one has to be realistic about it. Are these teams going to send us their best pitcher or pitching prospect for Tex? No, they're not. So you look at the best option for all of them. For the Angels, the best option for pitching I saw was Ervin Santana. Eh. For the Dodgers, the word was that the Rangers wanted Clayton Kershaw. By all accounts, that would have been a spectacular move. But LA didn't want to give him up. I probably wouldn't have, either. That left the Braves and their package.
There's also the issue of trading Tex inside our own division to the Angels, something that I would have a hard time dealing with. It's always annoying when you trade a fan favorite and a good player away, but it's worse inside your own division. We would have to have been absolutely bowled over with an offer from the Angels to trade him there. That didn't happen, so I'm glad about that.
So Teixeira is traded away with Ron Mahay for four players. One major leaguer, and three prospects. By all accounts the two named ones are great prospects (not marginal ones), and the fourth is unknown yet, rumored to be another pitcher. First, let me say breaking down individual players is not my strength. That is a strength of Jamey Newberg, so I'll defer to him on the actual playing abilities of each of the guys we get. But I do have a few words.
Inbound we get a switch hitting catcher Jarrod Saltamacchia. I kept hearing that he can play some first base. In trading away a player of Mark Teixeira's caliber for a player who is primarily a catcher, the immediate first thought is What about Gerald Laird?. There was some talk a day or two ago that we were looking at trading Laird & Mahay to the Cubs for Felix Pie. I find that hard to believe – while Pie is supposed to be a stud, I can't see where that trade makes much sense from the Cubs standpoint. Anyway the question will be where will Salt play in Texas? Laird is our front line catcher, and we did just bring in Adam Melhuse, so we don't really need another catcher, although Salt is a switch hitter with a lot of power. Do we play Salt at first base? Does that bump Wilkkkkkkerson back to part time duties in the OF? We'll see.
The others are infielder Elvis Andrews, who is supposed to be a very good infielder, but he's at A ball, so he's awhile away from making a big impact. There's also pitching prospect Neftali Feliz, who has some decent numbers, he is in rookie ball. Even further away. The fourth player is unknown, but supposedly pitcher Matt Harrison, but there's some injury concerns, which is why he's likely to be a PTBNL in this deal.
As for Ron Mahay, while he's pitched OK for us, I can't see him being here super long term, either – and he's what 37 I think? Nice guy, but I don't think will be seriously missed.
Is this a blockbuster trade? No, probably not. However, all things considered, we probably got the best we could get. Yeah, there's some question marks about the minor leaguers, but when isn't there about minor leaguers – honestly? You're not getting a team to give up a front line starting pitcher here, so this is probably the best you can do. My overall opinion is probably "eh", but I think that's more based off of the fact that you knew Tex was going to go anyway, not the players back. Once those remarks about "fun conversations" came out a few weeks back, you kind of knew this day was coming, and that's where my feelings come from. I'm OK with the players in return, just annoyed we had to trade him in the first place.
Why did I write all this? I'm just tired of knee-jerk reactions of people in call in shows who say things like "No major league pitching? This automatically sucks". I detest sports call in shows, because most of the people who call in generally have no friggin clue about the larger picture. This post won't change that behaviour, but at least will get some steam out of me. I wish Steve Busby was back on the KRLD post game call in. I loved how he would mock people calling in with that kind of attitude. I miss that. Busby had some balls on the post game show.
I do have to admit to being curious what Michael Young's remarks about the trade will be.