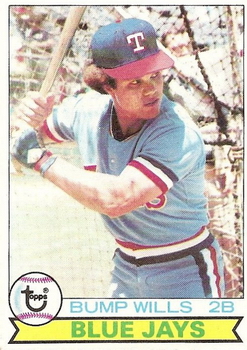 I've been meaning to mention this site for awhile; keep forgetting about it. It's a cool site called "Cardboard Gods", and is a site about baseball cards.
I've tried a few times to figure out EXACTLY how to describe it, and it's hard. The author (Josh Wilker) takes a baseball card, and sometimes talks about the card itself, or has a story about things relating to the card, it's not your "normal baseball fan" website. While not every single story engages me, it is interesting enough to make me keep it on my RSS feed reader.
Today's story is about an old Bump Wills Texas Rangers card that was mistakenly labeled "Blue Jays". He's covered other Rangers cards too; the others are Jim Bibby, Jeff Burroughs, Bill Hands (twice), and Jim Sundberg.
The site has a very interesting flavor; go check it out.