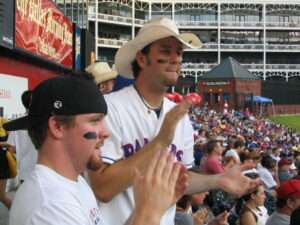 Saw an article come over my rss feed reader this morning from the website for Hank's Homies, which isn't updated very often, so the notice stuck out. Apparently the Homies are three years old now. The funny thing is I remember them in the upper deck around Section 340 or so before they moved to Section 5. I remember looking at 'em like "What's with these guys"? They were just a row or two in front of me. I seem to recall getting annoyed when I couldn't see because they held up their sign. :)
Anyway, they moved down to Section 5, and a legend was born. If you read their story, they recall again the story from May 2nd, 2004 when the entire stadium was wrapped up "SWEEP – SWEEP – SWEEP". I agree with them, it was one of the best moments I'd heard in the park. To hear the entire stadium wrapped up chanting sweep was very cool. It wasn't until later that I found out how cool it really was when I found out the Homies started it, and it was even mentioned on air in this audio clip by Eric Nadel and old radio guy Vince Cotroneo.
You can check out this quick video clip I took of them singing their chant when Hank was up the day I hung out with them on June 24, 2004. I couldn't handle standing the entire game, I eventually ended up sitting down where my real seat was. But I had fun with 'em.