Seems like an odd headline to say that a game with a score of 8-1 was a close game. But this was an odd game.
Early on, it was a no hitter for both sides into the third inning, when the first hit of the game was a bloop double to right field by Gerald Laird with two outs. But it remained scoreless with an obscenely high percentage of flyouts and popouts (as opposed to groundouts).
We get into the bottom of the fourth with a combined no runs and one hit (Laird's double), and Jim Thome was at bat, and launched his bat into the stands, hitting a fan. After getting a new bat, Thome launched the right object into the stands (well, if you're a Sox fan), the ball. Over Kenny Lofton's head for a home run. That turned out to be the only run the Rangers surrendered, and if it's a solo home run to Jim Thome, that's not anything to be ashamed of. Odd that the Sox didn't score more, as Tejeda did help 'em a bit by giving up four walks, but none of them hurt.
After Ian Kinsler reached base on a fielder's choice in the fifth, Brad Wilkerson smacked a two run home run to right to give the Rangers a 2-1 lead. That was a bit of a surprise for a guy who has really lacked any kind of consistent power since he came to Texas. Plus with the way the game was going, you weren't expecting something like that. So it was nice to see. Turned out that was the game winning run, although you also wouldn't have expected that, either.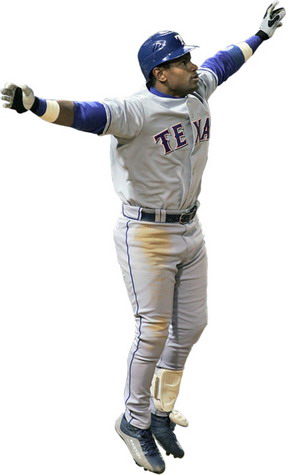 Things pretty much stayed calm until the top of the seventh when Sammy Sosa doubled to deep right field. There was an outside chance it could have gone out, but it didn't have that "Oh yeah, that's a home run" feel to it. Still, double works. Man in scoring position with one out in a 2-1 game. Good thing to have. Hank Blalock squirted a single through to right field, and given the score (I assume), Don Wakamatsu held Sosa at third. Then Ian Kinsler did have one of those "Oh yeah, that's a home run" swings. No doubter to left field which gave us a 5-1 lead, and keeps the Kinsler love fest going. While I have to admit I'm enjoying his early April stats (and I did like the clip they showed on TV which says that Kinsler has a better HR/At bat ratio right now than Arod), I have to admit to being mildly concerned that all his power is stuff being pulled to left field. I can't say I recall much of it if any going to right. But that's OK. I'll enjoy it, anyway. :)
In the 8th, the Sox allowed a double to Kenny Lofton, which was the third time Lofton led off an inning this game. Usually your "leadoff" hitter only really leads off in the first, sometimes they get another, but this is at least the second time I can remember already where our leadoff hitter actually leads off three times in a game this year. Anyway, Frank Catalanotto moved Lofton to third on a fly ball, and Michael Young struck out with a man on third and one out. That didn't feel good. Then Ozzie Guillen walked Mark Teixiera intentionally to get to Sammy Sosa. That was odd, as while Sosa isn't exactly setting the world on fire right now, he's warmer than Tex is, who is really pretty darned cold right now. Anyway, after going down 0-2, Sammy Sosa launched a home run to right center after doing a good sized bunny hop at the plate. I didn't think off the bat it was automatically out, but it ended up going a couple rows over the fence. I have to admit to smiling when that happened. I rarely do that for home runs – the last time I recall smiling on a home run was that walk off one that Rod Barajas had against the Yankees at the Ballpark two seasons ago. That one made me smile. This one did, too. Also really shut up the Chicago crowd, who had been riding Sosa most of the game. That put us up 8-1, and ended the scoring for the evening.
Two home run fun facts. The home run by Wilkerson was his 100th career home run, and the one by Thome was his 475th.
In all, the Rangers had 9 hits, six of them were extra base hits. Three doubles (Sosa, Lofton, Laird) and three home runs (Sosa, Kinsler, Wilkerson). The Sox had only four hits in all. Their only offense was the Thome home run, and the other three hits were by just two batters, so they had not much going on at all.
That brings me to what I thought for most of the game would be the main story, Robinson Tejeda. He was pretty darned good, going seven innings, giving up three hits and the one run. I didn't like the four walks, but as I said earlier, it didn't hurt us. I get the feeling that we'll see more of this Tejeda than the one we saw in Tampa Bay a few days back. It was also nice to see Sammy Sosa on the post game show not answer one of Tom Grieve's questions, and pointing out how well Tejeda pitched before he actually got around to answering Grieve's question.
So yeah, despite the score being 8-1, this really felt like a close game for the majority of the time it was being played, which itself was another nice surprise, only clocking in at 2:28.
Oh, and I wonder what happened to Brad Wilkerson that he had to be helped off the field to start the ninth?