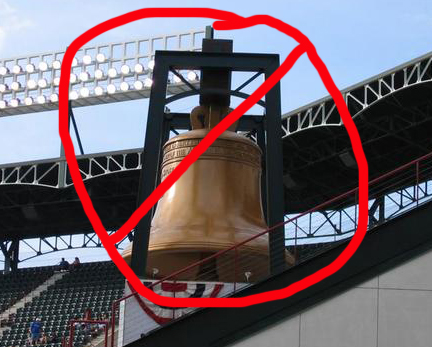 In an announcement that came to QUITE a surprise to me, Ameriquest and the Rangers have seperated as corporate sponsors, and effective immediately, the official name of the Ballpark is now..
"Rangers Ballpark in Arlington"
I called Chuck Morgan about it, and asked him "So, is Section 201 returning?" His response was yes, so the stupid bell is being removed from the park this afternoon. When I asked about the actual formal name, he said there are no plans he know of to rebrand it with another corporate sponsor, said something like trying to build the Rangers brand. So while we didn't get an official return to "The Ballpark in Arlington", "Rangers Ballpark in Arlington" is close enough.
Not that any of us real fans called it Ameriquest Field anyway. Huzzah! I even offered to come help take the bell out for free.