Well, there were two innings worth talking about in this game. The first one is the third inning, and the other is the ninth.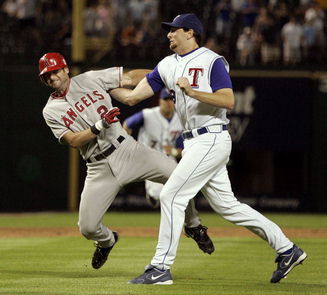 The third was notable because of the big huge 8 spot we put on the board. This was capped off by a grand slam by Ranger outfielder Nelson Cruz. This apparently was the first time that Cruz ever came to the plate with the bases loaded as a major leaguer, and he hit a line drive grand slam over the left field wall. That wasn't the only run Cruz scored that inning, as he was driven in on a two run home run by Ian Kinsler. Kinsler's home run was interesting because it came a pitch or two after what would have been a caught stealing for Cruz, which was negated when home plate umpire Sam Holbrook nullifed the play on his own umpire's interference. That was a very good inning for us.
The top of the 9th was set up by some fun in the bottom of the 8th. Mike Young was hit by a Kevin Gregg pitch. Brandon Donnelly relieved Gregg, and immediately hit Freddie Guzman with a pitch, and was ejected. In the top of the ninth, the Rangers brought on Scott Feldman to pitch the ninth, and the submarine pitcher was later discovered to be a submarine puncher, too. This was when Adam Kennedy was plunked, charging the mound, clearing the benches.
The brawl wasn't a really long drawn out one, in fact, as bench clearing brawls go, it was pretty tame, not a lot of those secondary and tertiary fights you usually see. But it's always entertaining to watch these things. Best moment of the fight for me was Mark DeRosa's football style tackle of Adam Kennedy who got plunked pretty well by Scott Feldman, who punches sidearmed too. It wasn't quite the pasting that Nolan Ryan gave to Robin Ventura, but Feldman's pounding of Kennedy can pretty much be seen in the photo here. Kennedy didn't get much (if anything) on Feldman before being tackled to the ground by Mark DeRosa.
Of course, all this was set up by Vicente Padilla yesterdaay, and also Adam Eaton a week or so ago, so there's been a lot of beanball between the teams lately. Will make for an interesting end run of the season, if this stuff is still hanging around.
On to Detroit where we meet Kenny Rogers & Pudge again tomorrow.