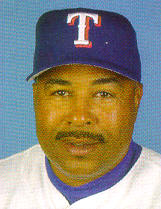 The Rangers lost first base coach DeMarlo Hale to the Boston Red Sox on Saturday. He goes to the Red Sox to coach third base. While it might initially be seen as a lateral move, the third base coach has a more presitgious job. Also, Hale has a stonger tie to Boston's club. He was drafted by them originally in 1992, and played in Boston's minor league system for 7 years. Hale managed Texas' AAA club for two years (00 & 01), and then was the Rangers' first base coach from 02-05. Ironically (if I remember my dates right), Hale's replacement as AAA Oklahoma manager was Bobby Jones, who was the Rangers first base coach before him, and is the leading candidate to replace Hale.
While I don't really want to lose Hale, he seemed like a good enough coach and guy, if the replacement is Bobby Jones, I'm OK with that, it just makes the real choice being who replaces Jones at AAA? Click here to view DeMarlo Hale's page on the Rangers site. Click here to view the story about Hale's hiring on the Red Sox site.
Also, Orel Hershisher is talking to the Dodgers about their vacant managerial job this week. If Orel goes, we'll probalby promote Mark Connor to pitching coach, and I'd love to see them make John Wetteland the bullpen coach.