The map of the new Dallas Cowboys stadium was released on Monday, and I finally got a chance to digest some of the changes on Tuesday evening. Once it's finished, I don't expect it will be a major impact to the ballpark, unless both are playing at the same time, in which traffic goes to hell. I've been around Texas Stadium, and the traffic is a nightmare there. The roads in the new area are going to be even WORSE, so I don't think I'm gonna want to be anywhere near the new Jones Stadium during gametime. That might seriously affect my Rangers attendance. I know it will at least affect how I drive to and from the ballpark.
Anyway, I'm not sure what route people take to get to the ballpark, but here's what I do to get in and out.
My entrance route: Since I'm coming from Garland, what I've always done is come west on 30, and get off at Six Flags drive. I take that, and followed it till it dead endedinto Division. Hang a right until I got to Stadium Drive, and then take a left when the Nolan Ryan Expressway branches off. I then parked in the "A" parking lot (see this parking lot map of the ballpark). If you want to see an overhead view of this entrance route, click here.
I have recently changed the route I take to get in, mostly because I've changed parking lots (because Lot J is easier to get out of than Lot A). If I'm paying cash, I'll still use this old one from above. I now park in the J lot, but you can only park there with a parking coupon. As I've pre-paid my parking for the season back in January, I get parking passes, which I can use for the J lot – which is a LOT easier getting out. I still get off at Six Flags Drive, but instead of taking it long, when it passes underneath Rt 360, I take a right at Copeland, that run that runs RIGHT by Six Flags. I stay on Copeland, driving past the ballpark, and the new buildings they put in the parking lots until Copeland gets to the Nolan Ryan Expressway. I take it till it dead ends into Randol Mill Rd (although the the NRE veers off halfway through and if you go straight, the road name changes to Pennant Dr). Anyway, I make a left on Randol Mill and get to Lot J, and park there. There's a picture of this newer route of mine here.
Both are close, although if you dawdle in the stadium at the end of the game, you'll have a harder time getting out. I generally park as close to an exit as I can – it really helps when getting out (moreso in lot A than in Lot J). I'm usually out the door the second the last pitch is over – believe me, it helps. After 8 years of season tickets, I've learned how to get in and out in a hurry.
And speaking of getting out, my out route has been the same for a long time. It's basically Randol Mill Road to Collins where I take a right and head to 30. Collins tends to clog a bit, but it moves fairly well, it's not a standstill like the A parking lot is getting back out the way I came in – that's a rookie parking mistake. ;) Click here to see an overhead of my exit route from Lot J. You can use it for Lot A, too, as there's an exit from Lot A on Randol Mill as well. (Sometimes though if attendance at games is low, they won't let you use this way, and you'll be forced to go a different route).
So that's it for my parking tips. Let's get back to Jerry Jones and his evil empire, and how this will affect the Ballpark.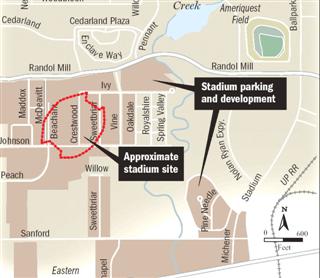 This is a cutout from a map that the Dallas Morning News posted on their site (here– see map link on page) showing where the stadium is to go. When it's completed, it won't look like it will affect Rangers parking all that much, but getting there will probably be a nightmare. It's going to go flush up against Randol Mill Road, which is my exit route (and part of my entrance route), and my old way of gouing up from Division on Stadium and Nolan Ryan will be affected, too. I see from the posted map that it's not going straight up against Stadium & Nolan Ryan, but something I saw on NBC5 news last night seemed to imply that it would go up against those roads. If it does, then I wonder if the Ballpark will share parking with Jones Stadium parking at some point. Either way, I predict major hassle till the stadium is built, once they actually start the real work of building it (probably not till next year I'd guess).
I can't imagine where the new Cowboys stadium will be terribly good for parking in the area, both during construction, and afterwards. I was only in this area for one season of the construction of The Ballpark in Arlington (as I moved to this area in Dec of 92). I remember what parking was like around Arlington Stadium while the new place was being built. It was fiasco. Now, Jones Stadium won't be anywhere near that close, but I can't imagine it will be all that easy, especially if they decide to try and widen the roads, which I imagine will have to happen, as the roads in this area can't support the fiasco of a parking situation I see around Texas Stadium – and there are highways over there!
There goes the neighborhood.