In early June, I was interviewed on the telephone for an article to appear in the July issue of the in stadium Rangers program. On July 16th, this article appeared, and is in the program. Due to my being an unofficial website, the Rangers were not allowed to give me a pdf of the article as it appears in the magazine, but did permit me to reproduce the entire article text on my website.
In addition to the text, there was a picture of myself, as well as four screen captures of my website & forums. In addition to this, they also interviewed Jamey Newberg of the Rangers fan site "The Newberg Report". His picture also appears in the article as well as a few captures of his site as well.
---
"TALKING" RANGERS
From photos to forums to fun, websites provide an outlet for Texas fans to follow and discuss their favorite team.
By Jason Rademan
Reprinted with permission from the Texas Rangers Baseball Club.
Photo of Joe Siegler by Brad Newton/Texas Rangers Baseball Club.
Curt Schilling is an admitted baseball fanatic and historian of the game, even going so far as to name his first son Gehrig after the legendary Lou Gehrig. He is also a self-proclaimed "computer nerd," so last November, when rumors were swirling about a potential trade that would send him from Arizona to Boston, Schilling immediately logged on to the internet.
He first searched for news and online rumors about the alleged deal, then he tried to find Red Sox message boards and chat rooms to see what the "Red Sox Nation" had to say. What he found was the SonsOfSamHorn.com.
The website, which consists of "obsessed fans dedicated to discussion of all things Red Sox," gets over 72,000 visits per day and has had over 27 million visits since its inception in February 2000. Boston General Manager Theo Epstein even frequents the site to discuss the team's strategies in such areas as scouting, drafting and player development. The site has an extensive fan forum, allowing rabid fans of the New England club to discuss, debate, argue, agree and disagree about the wheelings and dealings of the organization and the team's performance on the field."
I stopped by MLB.com to check things out about the trade and then I got an email telling me about the `Sons Of Sam Horn' website," said Schilling, as quoted on the site about his late-night web surfing last November. "I read around the site and it was pretty cool knowing that an entire `nation' of people was rooting for me and my family to come to Boston. I am human and it's pretty cool to see people wanting you to be a part of their team so badly. When I saw the chat room, I figured, `What the heck?' and started chatting. After a while, I convinced some of the people there that it was me and it was a lot of fun. It definitely got me fired up about going to the Sox."
In this computer-friendly, technology-driven day and age, baseball fans are now provided with an almost limitless amount of access to their favorite team through the wonder that is the internet. Each Major League club has its own website, complete with streaming audio and video, up-to-the-second statistics and standings, extensive information on the players, front office, minor league affiliates and club history, as well as photo galleries, ticket sales and online stores.
Texasrangers.com is the source for all the official information you could ever ask for about the club, and the site's Fan Forum section is extremely active with knowledgeable Rangers fans. Fans can also sign up for the Rangers' Inside Pitch email newsletter, providing instant news and information as soon as it breaks.
But, in addition to the official team websites, fan pages like the Sons of Sam Horn Red Sox site are becoming more and more popular around the league, and certainly among the Texas Rangers' legion of fans. Internet-savvy baseball followers around the country are parlaying their love of the Rangers into fun, informative ways of communicating with fellow fans. These sites have become virtual communities for visitors to discuss the team's play, the organization's young prospects and trade rumors, plus any and all additional Rangers-related tidbits that might come to mind.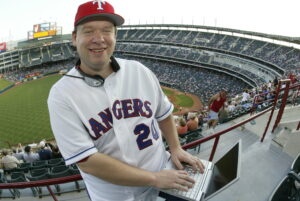 One of the most popular Rangers fan websites is Joe Siegler's Texas Rangers Fan Site (www.rangerfans.com). Siegler, a Philadelphia native who has been a season ticket holder since 1997, is a professional website designer who resides in Garland. The comprehensive site includes box scores, photos and Siegler's personal commentary on each and every game, plus game recaps from the various wire services and links to articles in The Dallas Morning News, Star-Telegram, and texasrangers.com.
Siegler's site has a massive photo gallery with shots from numerous opening days, Rafael Palmeiro's 500th Home Run celebration last season, playoff games and special events at both Ameriquest Field in Arlington and the old Arlington Stadium. There are bio pages on all the current players and many former Rangers, a widespread section of the rich history of the club, numerous fan polls, downloadable audio and video files and archived game-by-game files dating back to the 1999 season.
The site also boasts a one-of-a-kind "Seat Selector" page in which Rangers' fans can compare and contrast the vantage points and viewing angles for each of Ameriquest Field's 178 seating sections. Siegler entered the ballpark as soon as the doors opened one afternoon and went from section to section, exhaustively taking digital photos for each. He then created a virtual layout of the ballpark and linked his photos from each section to the seating map.
"I design websites for a living and when I get caught up in something that I really enjoy, I design a website for it," said Siegler, who created the page shortly after the Rangers' magical summer of 1998, in which the club won the American League West crown. "The Rangers were coming off a great season, and I was feeling good about where the team was going, so I created the website. The Rangers' official website has improved so much since I got started, so that has pushed me to `keep up with the Jones.' It's a fun way of expressing opinions and communicating with like-minded baseball fans. I get so much personal enjoyment from it."
Siegler's site has developed quite a following among Rangers fans, collecting 1.4 million page visits in the month of April alone. His message boards and chat room are extremely popular, with close-knit bonds having been formed between many of the various users. Through the website, fans have a voice and a forum to express their opinions, questions and concerns about their favorite ball club.
"Joe has put together such an outstanding site," said frequent visitor Greg Cotharn. "He is so comprehensive and detail-oriented, and his comments in the discussion forums encourage sincere commentary by other posters. A fan site is an interesting psychological study in that you get a great feel for certain posters. As the season progresses, you notice the ups and downs in their confidence and you develop a connection with them. I feel like I almost know some people from the site as well as I know members of my own family."
Another extremely popular Rangers' fan webite is the Newberg Report (www.newbergreport.com), which focuses on the everyday workings of the team, but more specifically on the organization's minor league system, the "foundation and future of the club." An attorney in Dallas for over 10 years, Jamey Newberg's website has garnered national attention from outlets such as ESPN.com, Baseball America, Baseball Prospectus, and STATS, Inc.
Reports are submitted every day during the season on all the games played by the Rangers' six minor league affiliates, including Newberg's analysis and commentary on the development of the club's top prospects. The site boasts a free email newsletter service with a subscription of over 3,000, and there are frequent live chats on the site, with guests such as Rangers prospects, front office personnel and members of the local baseball media.
"The Newberg Report is an all-encompassing Rangers newsletter that includes analysis of every move the organization makes.at the big league level and especially on the farm, both between the lines and in the general manager's booth," stated Newberg, who estimated that he spends roughly two hours a day working on the site. "I pride myself in not missing a trade rumor, shifts in players' roles or injury developments. And I relish the opportunity to state my opinions and analysis on what has happened, plus what I believe should happen."
Newberg enlisted the help of some of his web-savvy friends and began his website in 1998. His email list started with a circulation of only 12, which included a number of minor leaguers in the Rangers' system and their families who signed on to read about their chances in the organization. Then the Newberg Report received some major publicity on "The Ticket," the popular sports talk radio station in the Metroplex. During the long, hot Texas summer afternoons, the hosts would read his summaries on the air, sparking discussion and debate amongst listeners about the "big picture" of the Rangers while developing quite a following for the Newberg Report.
Mike Hindman is a major contributor to Newberg's site, supplying daily recaps and rundowns on the Rangers' farm system. Also a lawyer in Dallas, Hindman met his future website partner while they were trying cases against one another. The pair immediately realized their similar baseball interests and have become quite close, attending Rangers and Frisco RoughRiders games together. No objection there, your Honor!"
I really enjoy the fact that I can be more subjective and opinionated on my site than official team sites can be," said Newberg, a diehard Rangers fan his entire life. "I don't represent the team, so I have more freedom to be honest and just state the facts. The folks who frequent my board enjoy knowing about Laynce Nix before he comes up from the minors. They want to know who Gerald Laird is and why he might be the future for the Rangers at the catching position. They want to know about the club's top pitching prospects and how the team is building for the future. I get a huge personal satisfaction out of that."
Jeff Whisenhunt is a member of the Newberg Report, as well as Joe Siegler's Texas Rangers Fan Site, and spends approximately two to three hours per day split between the two websites. He considers himself a Rangers fan who craves as much information on the team as possible, and feels as though he gets it from the two internet destinations.
"There is such a wealth of information available out there and if you want to find a certain tidbit on the Rangers, these are two unbelievable sites," said Whisenhunt. "I really love Newberg's email service, because before I signed up for it, I'd never really known what was going on in the lower levels of the system. Now, I'm almost too informed! I went to a Frisco RoughRiders game with a friend recently and I kept telling him all about every single player when he came to bat. My friend was starting to get pretty beaten down since he just wanted to watch the game in peace. Anything you want to know about this team, Siegler and Newberg can get you up-to-date and keep you that way."
Newberg has received positive feedback about his site from some members of the Rangers' front office, for which he is extremely proud, and his message boards and chat rooms are always busy with informed and educated baseball talk. And who knows, some future Rangers stars might be lurking as well!
"I never conceived that the site or the email list would get to be as big as they are," said Newberg, who now publishes an annual book recapping the organization's performance each year. "I think that's an indication of how popular fan websites around the league are getting. And it's not just baseball. You can find impressive fan sites on actors and actresses, movies, entertainment.you name it. I think it's a great way of communicating with people who have similar interests as you and having a forum to discuss the particular passion you share."
Siegler concurred, when he said, "the internet is the best tool of communication ever invented. It connects people that would maybe never meet in different circumstances. I truly enjoy my website because of the interactions I have with other fans. They're just like me. They love this team just like I do, so it's fun to sit back and say, `here I am and here's what I think.' It's like you're sitting in a bar with these people, just sharing opinions and having fun."