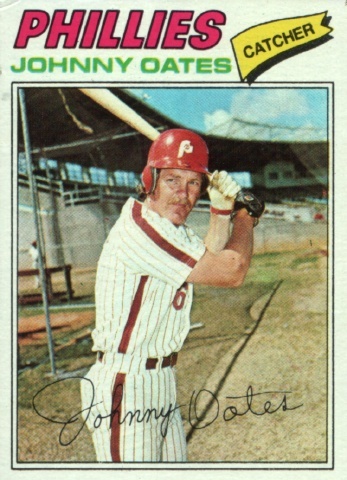 This day was one I had been looking forward to since the day Johnny Oates was diagnosed with cancer. Johnny Oates returned to the Ballpark as part of the inaugural Rangers Hall of Fame ceremonies. As I've said on this site before, Johnny Oates means a lot to me, because when I was a kid growing up in Philadelphia, Johnny Oates was the catcher for the Phillies for what I believe was my first game I attended. After that, I lost track of him, but I had heard his name from time to time. Then when I moved to Texas and he became the Rangers manager, it was a big deal for me emotionally. I loved him as a Rangers manager, and the illness he got after his time as a manager bothered me a lot, since he was one of the nicest guys you could ever meet, and the personal connection made it worse for me. When he came out on the field, I was in the stands taking pictures (which will get posted Monday). I teared up like I'm sure most people did, but the tears were down my face – I lost it several times during the ceremony. It was nice to see Nolan Ryan, Sunny, & Charlie Hough too – but for me personally, it was all about Johnny Oates.
Johnny looked better than I thought he would look. I'd seem some pictures of him from time to time where he didn't look very good, but he did here, given the circumstances. When the inductees came out of their cars, Johnny had to be helped out of the car, but it appeared he wanted to walk to his seat himself. He needed a cane, but he could do it, albeit slowly. There were several times he broke down when folks were talking about him, and an already humble man seemed very humbled by the induction. It was both sad and awesome to see him there being held up by Tom Hicks (much like Tony Gwynn did for Ted Williams in the 99 All Star Game). Tom Grieve said on TV that it seemed great that Johnny's speech was all from his head, there were no notes, and he didn't have a bunch of pauses and "Uh… Uh…" in there. I hadn't thought of that at the time. I loved how he talked about the current Rangers, and spoke highly of Buck Showalter. While I think Buck Showalter is doing a wonderful job as our manager, there's still a part of me that misses hearing Chuck Morgan announce Johnny Oates' name as the manager at the start of the game. I really truly will miss Johnny when he passes. In fact, he had some levity about that in his speech saying that he agreed with Tom Hicks' sentiment that it's only a matter of time until a World Series game is played at the Ballpark, adding "And Buck, hurry up, because I want to see it!" A nice "funny" moment in his speech. He got numerous standing ovations, and for me was the singular attraction of the night. I would have paid my two bits just to see him, and would had been quite content had there been no game afterwards. One thing I was kind of disappointed in, and I admit up front it's because I had worked myself up thinking about it is this. I really wish they would have retired Johnny Oates' uniform number of 26. Since he's left, no one has gotten it (save for one guy a season ago during spring training). Someone (I forget who) said that they weren't giving out Johnny Oates' number during the regular season to anyone. If they don't intend on retiring it, I don't know why they are holding it back. Given that I can't see Johnny's condition getting BETTER, I don't see why they did not retire it last night while he was there. It would have been great for him to have been there for a uniform number retirement ceremony. I really don't want them to retire it after he passes and he wouldn't be able to see it. If they're not retiring the number, then give it out to someone else (and I don't really want that to happen, either). In closing, I really enjoyed the ceremony – I was glad I was there to see it, because I'd be surprised if I ever will see Johnny Oates in person again.
This image here means a lot to me, though.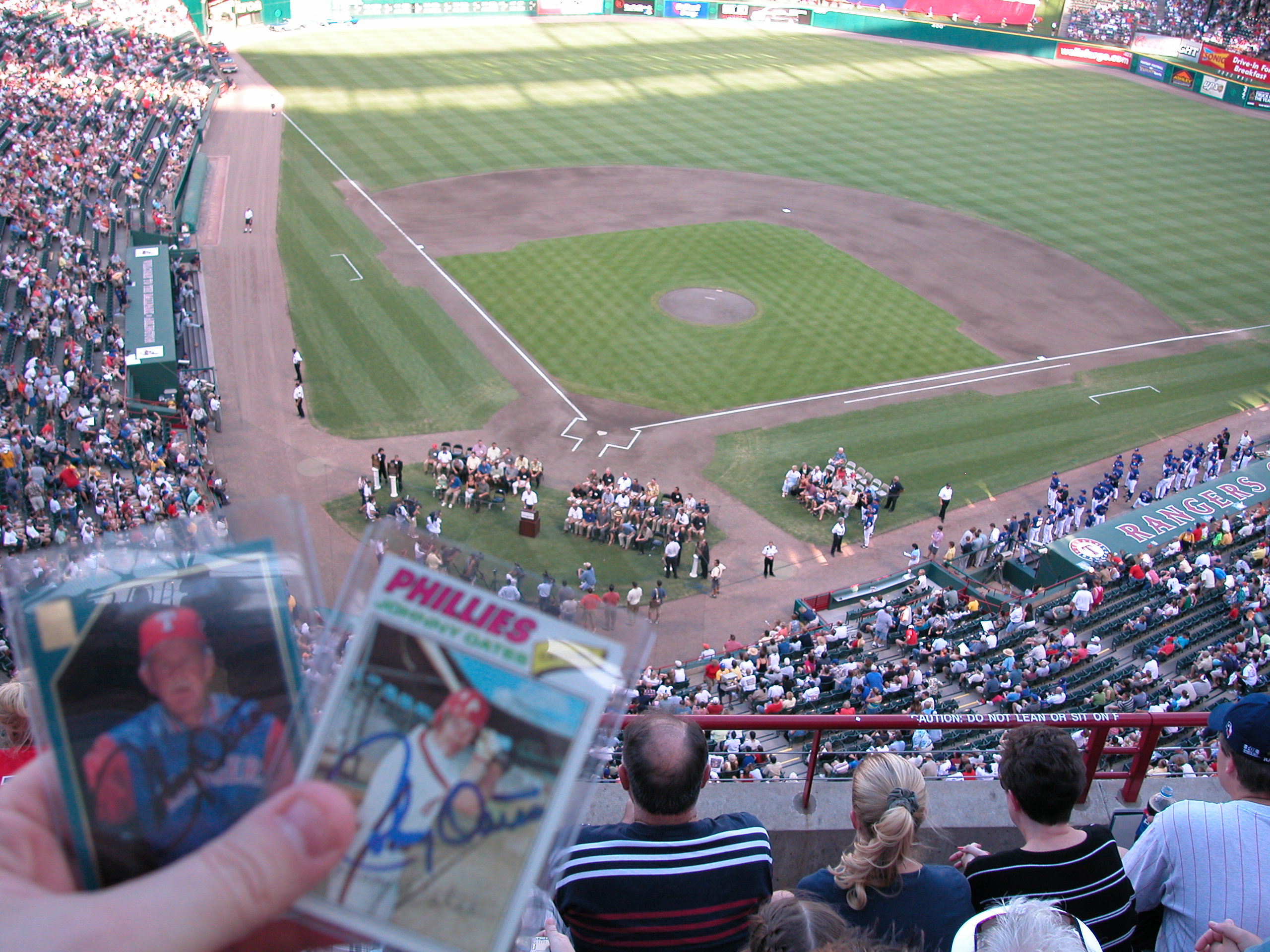 I covered the reasons why these cards mean a lot to me in the first paragraph here, but for some reason I felt kind of silly like I was a 6 year old clutching his baseball cards while his hero was "in the house". And then I took a picture of myself holding the cards. But still, these two cards in the picture meant a lot to me. It was to be the last time that I ever saw Johnny Oates, as he died about 15 months after this (this paragraph was added in Jun 2007).
Oh yeah, the Rangers won. It was a back and forth game, but I almost didn't care about the game – I was a bit too emotional from the pre-game ceremonies. Highlights of the game were 6 more home runs from both teams after 9 the night before. One from Arod, Layne Nix, & a 3 run from Raffy.