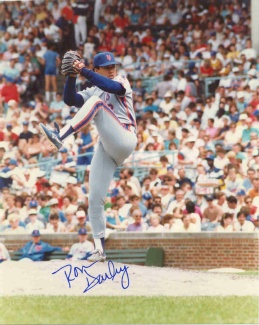 On April 1st, 1982, the Rangers continued their streak of giving up young talent for players that would eventually turn out to be busts. On this date, the Rangers sent Ron Darling and Walt Terrell to the Mets for outfielder Lee Mazzilli. At the time of the trade, Terrell and Darling were both in the Rangers farm system and were considered decent pitching prospects. In fact, Darling was the Rangers first pick in the June 1981 draft. Mazzilli was a guy who had fallen far below all of the Mets expectations and was in the middle of back and shoulder problems. This trade didn't make sense for the Rangers at the time, nor does it make any sense now.
Darling wouldn't make his impact until 1984, when he would post a 12-9 record pitching along side rookie Dwight Gooden. Darling made the All-Star team 1985 and finished 16-6. He would also go on to throw two complete games in the 1986 World Series while posting a 1.53 ERA in his two starts. Darling spent a lot of the 1987 season on the DL and never quite looked the same again. Although, he did come back in 1988 and win 17 games, he didn't seem like the same pitcher. Darling isn't listed in any of the Mets record books but from 1984-1986, Darling went 43-21. During this same time period, the Rangers were in desperate need of pitching. Including 1986, when the finished in 2nd place, 5 games behind the Royals. Darling might have made a big difference on a pitching staff that finished 9th out of 14 teams in the AL.
Walt Terrell turned out to be a consistent, durable starter. Walt won 15 or more games three times in his career and pitched over 200 innings each year after 1984. Terrell was often the victim of poor offensive support, but he always gave his team everything that he had. Terrell thrived after he was traded to the Tigers. He posted a career 32-7 record at Tiger Stadium.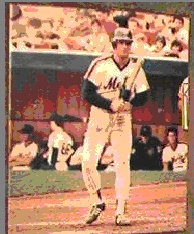 Early in his career, Mazzilli was being compared to the earlier New York centerfield trio of Mantle, Mays and Snider. Mazzilli was a Brooklyn native and was heavily promoted as not only a prospect, but as a sex symbol. His career was off to a decent start until he was moved to 1B in 1980. He struggled through the 1981 season, hitting only .228 while experiencing back and shoulder problems. After the trade to the Rangers, he spent only 4 months on the roster before being traded to the Yankees. During this 4 month stint with Texas, he spent 6 weeks on the DL with shoulder and wrist problems.
Now I understand that we are not talking about two of the greatest pitchers of all time here, but combined, they could have really made things different for the Rangers in 1986. Try to imagine a starting rotation that had Darling in place of Jose Guzman and his 15 losses. Imagine Walt Terrell pitching in place of Mike Mason who pitched in only 135 innings. The Rangers already had three decent pitchers in the rotation in Charlie Hough, Edwin Correa and Bobby Witt. Maybe Darling and Terrell help make up those 5 games? I do know that I would much rather have seen them try, rather than witness Mazzilli play only 58 games in a Ranger uniform.
Click here to see Ron Darling's lifetime stats.
Click here to see Lee Mazzilli's lifetime stats.
Remember the Rangers!
Jeremy Northrip
rangerhistory@hotmail.com
Note: I apologize for the length in time between articles. I took some time off, but plan on making this a regular thing throughout the season. I am going to submit my articles in separately from now on. In a few days, check back for the Player from the Rangers Past. Then a few days after that, I will follow up with the worst trade in Ranger history. Be sure to drop me a line if you have any ideas for a new topic.

---
Ron Darling with the Expos & A's: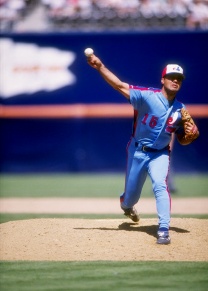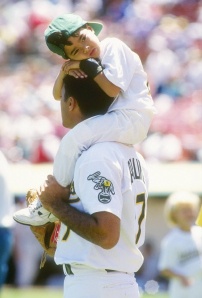 Lee Mazzilli: