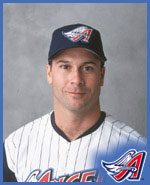 DALLAS (TICKER) — Moments after Anaheim Angels manager Mike Scioscia spoke of how important middle reliever Mark Petkovsek was to his team's bullpen success, the free agent righthander agreed to a two-year contract with the Texas Rangers.
Financial terms of the deal were not disclosed but the Rangers also hold options for the 2003 and 2004 seasons.
Petkovsek, 35, appeared in a career high-tying 64 games for the Angels last season, posting a 4-2 record with a 4.22 ERA. He registered two saves and ranked second on the Anaheim staff in appearances and relief innings (81).
Scioscia was addressing the media at baseball's winter meetings and boasted about Petkovsek's contribution to his staff. Unbeknownst to the Anaheim skipper was that the Rangers and Petkovsek had agreed to the pact.
Because he was offered arbitration by the Angels on Friday, Petkovsek will cost the Rangers two draft picks, including a 2001 selection, as compensation.
After a stint on the disabled list from May 17-June 12 due to viral syndrome, Petkovsek became a stalwart in the Anaheim pen, posting a 3.29 ERA in 34 games after the All-Star break. Over two seasons with the Angels, he went 16-6 in 128 appearances.
The Beaumont, Texas native and resident boasts a 45-36 career mark with a 4.49 ERA and five saves. He began his career with the Rangers in 1991 before making stops in Pittsburgh (1993) and St. Louis (1995-98).
Petkovsek also pitched for the University of Texas from 1984-87, going 29-3. He led the nation with 15 victories as a senior.