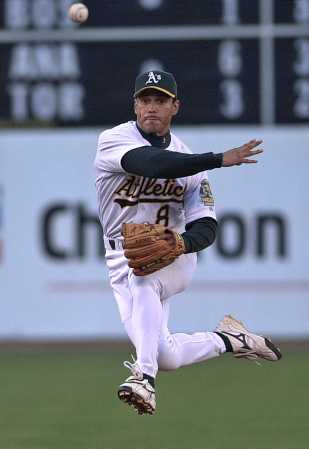 OAKLAND, CALIFORNIA (TICKER) — Veteran second baseman Randy Velarde, who helped the Oakland Athletics to the American League West crown in 2000, today was dealt to the Texas Rangers for two minor league pitchers.
Velarde, who turns 38 next week, hit .278 with 12 home runs and 41 RBI during his 14th major league season. He went 5-for-20 with a double and three RBI in a five-game loss to the New York Yankees in the Division Series.
In 1999, the Texas native became the sixth player in major league history and the first since Willie Montanez in 1976 to total 200 hits while playing for two teams in one season.
Velarde hit .317 with 16 homers and 76 RBI that season, posting 115 hits for the Angels and 85 for the A's. He was acquired by the A's from Anaheim prior to the trade deadline.
Oakland acquired righthander Aaron Harang — Texas' sixth-round draft pick in 1999 — and lefthander Ryan Cullen.
Harang, 22, led the Class A Florida State League in wins and ranking eighth in ERA this pas season. He went 13-5 with a 3.32 ERA with Charlotte, allowing just 128 hits and striking out 136 batters in 157 innings.
Cullen, 20, went 6-6 with nine saves and a 3.04 ERA in 48 relief appearances for Class A Savannah, striking out 103 in 94 2/3 innings. He signed with Texas as a free agent in 1999.
Velarde leaves a team that has two of the best young pitchers in the AL in Tim Hudson and Barry Zito but lacks depth at second base.
A former utility man for the Yankees, Velarde turned the 10th unassisted regular season triple play in major league history and the first in six seasons on May 29 at Yankee Stadium.
He overcame elbow surgery in 1997 to become a reliable major league starter, something he was never given a chance to do with the Yankees. He hit .285 in 530 at-bats in 1996 for the Angels but missed all of the 1997 season.
In 1,124 career games, Velarde has hit .277 with 89 home runs and 405 RBI. He was a 19th-round draft pick by the Chicago White Sox in 1985.
Velarde likely will be the starting second baseman in Texas, where Luis Alicea hit .294 with six homers and 63 RBI last season.