It's hard to mention any player from the Rangers past and not think of Charlie Hough. Hough pitched for the Rangers for 11 seasons (1980-1990). He never put up Cy Young numbers, but he was a consistent winner who reached double-figures in victories nine consecutive season. Not only was Hough one of the most likeable players in franchise history, he was also one of the most unique.
Hough started with the Dodgers in 1970 and was originally signed as a third baseman. He learned to throw the knuckle ball from Los Angeles scout Goldie Hold, with help from Hoyt Wilhelm, Jim Brewer and Tommy Lasorda. While Hough was with the Dodgers, he was used almost strictly as a middle-innings reliever. He only started one game from 1970 to 1978.
The Rangers purchased Charlie's contract from the Dodgers during the 1980 season. In 1982, the club decided to move Hough into the starting rotation, and they were very surprised by the results. Hough won 16 games that year and began a streak of seven consecutive seasons leading the club in wins. In fact, the knuckleballer led Texas in complete games and innings pitched each year from 1982 to 1987. During this same time period, Hough won a higher percentage of his club's victories than any other major league hurler.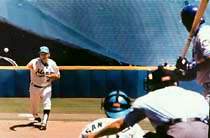 Hough was also a notorious smoker, he was often spotted smoking in the dugout between innings, even when he was the starting pitcher! (Hough had to smoke in the clubhouse when MLB made it against the rules to smoke in the dugout in the mid-80's.) Hough could go to the mound and throw 2 innings of perfect baseball. He would have the batters swinging out of their shoes and then, one pitch later, he would look like he had never thrown a knuckle ball before. His knuckleball turned into a 50 MPH hanging curve ball that was usually deposited into the outfield bleachers, about 450 feet away, he would then come back and look perfect for two more innings. Charlie's philosophy was that if somebody hit one knuckler 500 feet, throw the next one the same way because it will do something different. "You're not in charge of what it does," says Charlie, "you're only in charge of letting it go." This reasoning is one of the major reasons that Hough was so successful throwing the knuckle ball.
When Hough finally left the franchise in 1990, he had rewritten the Rangers record book. He became the all time leader in wins, innings pitched, strikeouts, games pitched, losses, and walks. In 1995, The Sporting News named Hough the greatest pitcher in Ranger history. Hough finished his career with the Marlins, and it is only appropriate that he go down in Marlin history as well. Hough was one of the first two free agents signed by the Marlins and won the first game in Marlins history against the Dodgers on April 5, 1993.
Click here to see Charlie Hough's lifetime stats. Here's some more pictures of Charlie Hough – you can click on any of them to see a larger version.
Remember the Rangers!
Jeremy Northrip
rangerhistory@hotmail.com