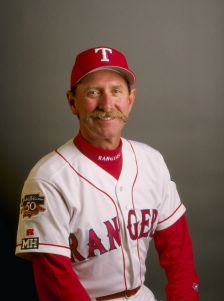 TEXAS RANGERS WILL NOT RETAIN DICK BOSMAN AS PITCHING COACH FOR 2001 SEASON
FOR RELEASE: Immediate
The Texas Rangers announced this morning that Dick Bosman will not return as the team's major league pitching coach for the 2001 season.
Bosman, who has served as the Rangers' pitching coach for the last six years, also will not work the final three games of the season this weekend in Oakland. Bullpen coach Larry Hardy will handle the pitching coach duties for the Oakland series. The search for a new pitching coach will begin after the season.
"The decision to change pitching coaches was totally mine," commented Rangers Manager Johnny Oates. "After further analyzing where we are and where we want to be, I felt it was time for an overall change in our pitching philosophy.
"Dick and I have worked together for a long time, and I appreciate all his efforts. The job of a pitching coach in today's game is a tough one. He is not the reason that we have failed to perform up to expectations this season. However, I feel that we need to make improvement and progress in our overall pitching."
Bosman served as Oates' pitching coach in Baltimore from 1992-94 before joining him in Texas for the 1995 season. The former major league pitcher with Washington/Texas, Cleveland, and Oakland from 1967-76 was previously pitching coach for the Chicago White Sox in 1986-87 and a minor league pitching instructor for Baltimore from 1988-91.
Oates also indicated that the other five members of the major league coaching staff: dugout coach Bucky Dent, bullpen coach Larry Hardy, hitting coach Rudy Jaramillo, first base coach Bobby Jones, and third base coach Jerry Narron have been invited to return for the 2001 season. Dent, Hardy, Jaramillo, and Narron have been on Oates' staff since 1995. Jones was added in May, 2000 following the retirement of Ed Napoleon.