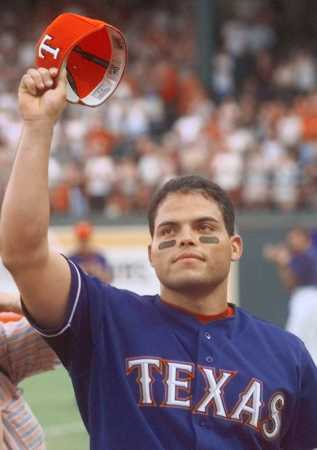 ARLINGTON – The people have spoken.
Rangers catcher Ivan Rodriguez is the most popular player in the major leagues.
Pudge's All-Star vote totals All-time All-Star vote-getters
Rodriguez, defending American League Most Valuable Player, earned the distinction on Tuesday by edging National League catcher Mike Piazza of the New York Mets. Rodriguez received 2,808,456 votes, about 28,000 more than Piazza.
Rodriguez ended Ken Griffey Jr.'s four-year run as the leading vote-getter in the All-Star selection process. Griffey moved from Seattle to Cincinnati this season and was voted into the NL's starting outfield.
Rodriguez received more votes than three AL teams' candidates combined: Detroit, Minnesota and Tampa Bay.
"I didn't realize I had so many fans," said Rodriguez, whose contract includes a $50,000 incentive for making the All-Star team. "My family told me that I could get elected governor of Puerto Rico with this many votes. I owe the fans for this.
"That's why when I put this uniform on, I go out and do my best. That's what the fans like to see. They pay for a ticket and want to see a good show. I want to do good for them."
This will be Rodriguez's eight consecutive start and ninth consecutive appearance in the All-Star Game, to be played on Tuesday at Atlanta. No other Ranger finished among the top five at his position.
In the AL, only Cleveland had two elected starters: second baseman Roberto Alomar and outfielder Manny Ramirez.
In the NL, Cincinnati and San Francisco each placed two starters on the team. For Cincinnati, the starters are shortstop Barry Larkin and Griffey. For San Francisco, the starters are second baseman Jeff Kent and outfielder Barry Bonds.
Seven Hall of Famers have led the overall voting: Henry Aaron, Johnny Bench, Reggie Jackson, Rod Carew, Joe Morgan, George Brett and Robin Yount. Among active players, Baltimore's Cal Ripken Jr. and Will Clark, Tampa Bay's Jose Canseco, Bonds and Griffey have led the overall All-Star voting.
"We've all come to assume that he's going to be the starting catcher," Rangers manager Johnny Oates said. "But to get the most votes, that's nice. I'm happy for him."
Before Rodriguez's ascension, Ripken Jr. and Griffey had led the voting annually since 1994.
The vote totals reflected each player's role of ambassador of the game. Rodriguez, the first top vote-getter from Puerto Rico, said he would like to take on that responsibility.
"I want to leave a good example when I leave the game," Rodriguez said. "I want it to be because of the way I play."
Rodriguez owes his latest distinction to Griffey's decline as much as his popularity.
Griffey, traded from Seattle to Cincinnati in the off-season, dropped from 2.92 million votes last year to 2.19 million votes, good enough to put him in the NL starting outfield.
Rodriguez picked up nearly one million votes over last year, but this was not his best showing in terms of numbers. Rodriguez attracted 3.01 million votes in 1996. His total was the lowest for the overall leader since 1995, when Ripken won with less than 1.7 million votes.
Reserves and pitchers will be named on Wednesday. The Rangers' best hopes for a second All-Star ride with closer John Wetteland and second baseman Luis Alicea.
The Rangers have had more than one All-Star representative in eight of the last nine seasons. Rodriguez was their only representative in 1997, the last time the club had a losing record.