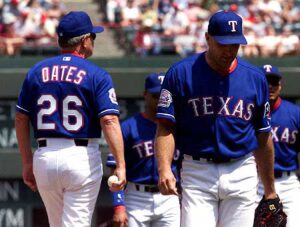 ARLINGTON, Texas (AP) — Right-handed pitcher Mark Clark got his wish Monday when the Texas Rangers placed him on waivers for the purpose of releasing him.If Clark is not claimed by noon Friday, he will become a free agent.
Clark, 3-5 with a 7.98 ERA, hasn't been happy with his diminished role with the Rangers, and has expressed his desire to leave the team several times.
"What good is it being here?," Clark told The Fort Worth Star-Telegram in a story published Monday before his release. "I'm not doing the club any good sitting out there in the bullpen and not pitching, and I'm not doing myself good career-wise. Since I'm a mistake, I don't see any reason to be here."
Team owner Tom Hicks referred to Clark as a "mistake" last week.
Some of the club's high-priced veterans haven't played well this season for the Rangers, the two-time defending AL West champions who now sit in last place.
Clark signed a two-year, $5 million free-agent contract with the Rangers after the 1998 season.
The former starter was converted into a seldom-used long reliever. He has pitched just once since June 16, losing 6-3 to Seattle on Saturday.
The Rangers recalled infielder Kelly Dransfelt from Triple-A Oklahoma of the Pacific Coast League. Dransfelt was in uniform for Monday night's game against Oakland.
Texas was expected to wait until at least next week's All-Star break before doing anything with Clark, but needed to make a move after shortstop Royce Clayton left Sunday night's game with a strained oblique muscle in his left side.
Clayton will be out of the lineup until at least Friday, but the Rangers aren't ready to put him on the disabled list.
WIRE STORY #2:
ARLINGTON, TEXAS (TICKER) — The Texas Rangers have placed Mark Clark on irrevocable waivers for the purpose of giving the struggling righthander his unconditional release.
To take Clark's place on the roster, the Rangers have recalled infielder Kelly Dransfeldt from Triple-A Oklahoma of the Pacific Coast League.
The waivers on Clark, 32, will expire on Friday at 1:00 p.m. EDT. He will become a free agent if not claimed by that time.
In 12 games, including eight starts, Clark was just 3-5 with a 7.98 ERA. He started the year in the rotation but has been pitching out of the bullpen for the last month.
Clark was the losing pitcher against Seattle on Saturday, when he allowed two runs and three hits while recording four outs.
Signed as a free agent prior to the 1999 season, Clark was 6-12 with a 8.37 ERA in 27 games, 23 starts, in his two seasons with the Rangers. He owns a career mark of 74-71 in eight seasons, having also pitched for the St. Louis Cardinals, New York Mets and Chicago Cubs.
Dransfeldt was hitting .224 with three homers and 26 RBI in 69 games for the RedHawks this season. He was with the Rangers from May 4-6 and went hitless in his only at-bat against Tampa Bay on May 4.
Dransfeldt, who batted .189 with five RBI in 16 games for the Rangers last season, will fill in for shortstop Royce Clayton, who is expected to be sidelined three to four days with a strained oblique muscle.
FROM JOE: To tell you the truth, at this point, it's the best move that could be made for both sides. He's not happy, so he won't pitch well if he remains. He was never really good for the Rangers as a team. It's a shame – I really wanted to like him – go look at the old news on my site from when he was first signed. Oh well, guess this means that the Perisho / Glynn experiment will continue longer.