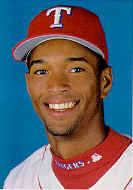 ARLINGTON — Unable to swing a trade thus far, the Rangers took care of their need for an extra outfielder internally, promoting switch-hitter Scarborough Green from Triple-A Oklahoma.
Green was batting .313 with one home run, 10 runs batted in and 14 steals in 27 games for the RedHawks.
"I never want to get called up because someone gets injured," Green said. "I want to get called up because of what I do on the field. All I want to do is get an opportunity to play."
With left fielder Rusty Greer on the disabled list because of ankle surgery and a hamstring injury, and right fielder Gabe Kapler on the DL because of a partially torn quadriceps muscle, general manager Doug Melvin attempted to swing a deal for an outfielder.
He has had conversations with the Los Angeles Dodgers about Todd Hollandsworth and the Philadelphia Phillies about Ron Gant, but without success.
"I've looked into the trade route, and there's nothing that excites me right now," Melvin said. "A lot of clubs aren't ready to deal yet."
Melvin had some mild interest in Rich Becker, released by the Athletics on Friday, but decided to promote Green.
Green arrived in Arlington on Friday, and was in the clubhouse before the game. But because first baseman David Segui couldn't play because of a strained hip flexor, the Rangers didn't activate him because they needed an extra infielder.
Segui was able to play yesterday, so Green was added and infielder Kelly Dransfeldt was optioned to Oklahoma.


King off roster
Triple-A catcher Cesar King, once considered one of the top prospects in the Rangers' farm system, was designated for assignment to make room for Scarborough Green on the 40-man roster. The Rangers have 10 days to trade, release or send him to the minor leagues.
King was batting .143 with seven RBI in 13 games for the RedHawks.
He was thought to be the same level with Ruben Mateo after the '97 season, when both played most of the season at Class-A Charlotte. Mateo batted .314 with 12 home runs and 67 RBI. King hit .295 in 91 games at Charlotte and .356 in 14 games at Double-A Tulsa.
But in the past two seasons, King hit .222 and .227 at Tulsa, and was struggling this year at Oklahoma.