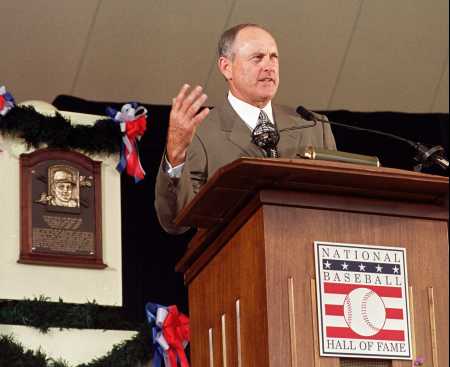 AUSTIN, Texas (AP) – Nolan Ryan, baseball's career strikeout leader, was in stable condition today after emergency double-bypass surgery.
Ryan was in near-perfect health for a 53-year-old Hall of Fame pitcher. Family history, however, made him a perfect candidate for heart disease.
Doctors were hastily summoned Sunday at Round Rock Medical Center, where Ruth Ryan drove her husband after he felt chest pains and experienced shortness of breath during a morning walk in the Austin suburb of Round Rock. Ryan is part owner of a minor league baseball team there.
"The doctors told us he has the heart of a 30-year-old," Ryan's eldest son, Reid, said. "We feel confident that he is going to recover fully."
Mark Felger, who performed the two-hour operation to clear an arterial blockage, and Reid Ryan planned a news conference tonight.
An electrocardiogram and blood tests showed Ryan did not have a heart attack, Texas Rangers spokesman John Blake said.
"However, doctors felt like there was blockage of (an) artery and suggested the Heart Hospital of Austin for an angiogram," J.J. Gottsch, director of public relations for the Round Rock Express, the team that Ryan and his son own, told the Austin American-Statesman.
When a substantial blockage of the left main coronary artery leading into Ryan's heart was indicated, Felger performed the bypass at 3 p.m.
The surgery was successful, Gottsch said. Ryan is expected to be hospitalized for about a week, Blake said.
"Today was a total shock to our family," Reid Ryan, president of the Express, said. "My dad has been in perfect health."
But the younger Ryan said the family has had a history of heart-related problems and that doctors indicated that heredity played a large part in his father's condition.
"We feel confident that he … can continue to lead the active lifestyle he is accustomed to," Reid Ryan said.
Ryan was voted into the Hall of Fame in January 1999. He holds or shares 48 major league, American League and National League records.
He struck out 5,714, pitched seven no-hitters and finished his career with 324 victories. Ryan's 27 seasons are more than anyone in major league history.
Ryan played for the New York Mets, California Angels, Houston Astros and Texas before retiring in 1993.
Story #2:
ROUND ROCK, Texas (Reuters) – Hall of Famer Nolan Ryan, one of the most overpowering pitchers in baseball history, underwent emergency bypass surgery on Sunday.
While walking around Dell Diamond, home of the minor league Round Rock Express team he owns, Ryan complained of chest pains and shortness of breath. He was rushed to a local hospital by his wife, Ruth.
While test results showed he did not suffer a heart attack, doctors felt there was a blockage and suggested an angiogram. Additional tests revealed substantial blockage of the left main coronary artery. A double vessel bypass was completed by Dr. Mark Felger, who pronounced the procedure a success.
Ryan was expected to remain hospitalized for a week.
Inducted into the Baseball Hall of Fame in 1999, Ryan is the all-time leader with 5,714 strikeouts, seven no-hitters and 2,795 walks. He pitched his last two no-hitters after turning 40 with his fastball — "Ryan's Express" — still humming.
Ryan, who pitched for four teams, had back-to-back 20-win seasons with the California Angels in 1973-74 and led the National League in ERA in 1981 and 1987 with the Houston Astros.
He broke in as an erratic right-hander with the New York Mets in 1966 and won his lone World Series championship in 1969, when he served as a long reliever and spot starter.
Ryan recorded at least 300 strikeouts six times, including a major league-record 383 in 1973. He led the American League in strikeouts nine times and the NL twice, retiring after the 1993 season with a 324-292 record, 61 shutouts and a 3.19 ERA.