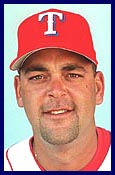 TUCSON, Ariz. (AP) — Roger Pavlik, who has not pitched in the majors since April 1998, announced his retirement Thursday at the Colorado Rockies' spring training camp.
Pavlik, 32, was a non-roster invitee to the Rockies' camp. He was an All-Star with Texas in 1996.
Pavlik worked out for four days, beginning last Saturday, and was in the clubhouse briefly on Wednesday morning, the first day of full-squad workouts.
He was missing from Wednesday's workout, leading some to speculate he might have left camp, although he had not cleaned out his locker.
No explanation was given for Pavlik's retirement, although he faced continued rehabilitation from rotator cuff surgery, which caused him to miss the 1999 season.
He was sidelined by a broken finger in 1998 and had elbow surgery in 1997.
"That's kind of unfortunate," Rockies manager Buddy Bell said, "but at the same time it's a decision that he feels very comfortable with."
The Rockies wanted Pavlik to stay in extended spring training in April.
In 13 seasons in the Texas organization, Pavlik had a winning percentage of .547 (47-39). He went 12-6 with a 3.41 ERA with the Rangers in 1993.
Pavlik was 15-8 with a 5.19 ERA in 1996, when he tied for second in the AL with seven complete games and pitched two innings in the All-Star Game.