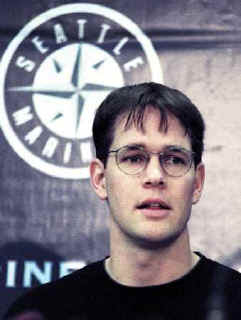 This was a curveball the Seattle Mariners weren't expecting.
His deal with Baltimore coming apart over his physical, Aaron Sele quickly agreed Monday night on a $15 million, two-year contract with the Seattle Mariners.
"This thing is like a star falling out of the sky," new Mariners general manager Pat Gillick said. "We're satisfied Sele is as healthy as he was when he finished the season with the Rangers. He underwent a physical on behalf of us with another physician, and our physician talked with that doctor and is satisfied."
Sele, a 29-year-old right-hander with one of baseball's best curves, reached a tentative agreement last Friday on a $29 million, four-year contract with the Orioles, a deal that contained $8 million in payments deferred without interest.
But that agreement was subject to his passing a physical, and the contract was never completed. The Orioles considered changes after the medical tests and were still talking to Sele's agents on Monday.
In the meantime, the pitcher who lives in Kirkland, Wash., turned his attention to the Mariners, one of baseball's busiest teams this winter.
Seattle spent much of the offseason considering trades for Ken Griffey Jr., but now seems likely to keep him. He is eligible for free agency after the season, and the Mariners considered deals so they wouldn't wind up losing him for nothing next fall.
Instead, having already signed free agents John Olerud, Arthur Rhodes, Mark McLemore, Stan Javier and Japanese reliever Kazuhiro Sasaki, Gillick and the Mariners might be sending Griffey a message that they are trying to win now.
"We do mean business and we do want to be competitive," Gillick said. "As we all know, the Yankees and Cleveland are the cream of the crop in the American League. But you never know what happens. If you win your division and get in the playoffs, you never know what happens."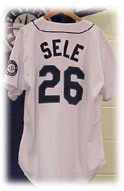 Gillick — a former GM for Baltimore owner Peter Angelos — began talks after Adam Katz, one of Sele's agents, called him Monday. Just 6 1/2 hours later — after discussions over deals of two years, two years and an option, two years and two options, and three years — he completed negotiations to get Sele, who went to Washington State.
The contract calls for a $1 million signing bonus and annual salaries of $7 million, with none of the money deferred.
According to another of Sele's agents, Tom Reich, there was a difference on interpretation with the Orioles on medical tests. Sele has never undergone arm surgery but was limited to six starts in 1995 because of shoulder tendinitis.
"The dealing with Baltimore were very cordial from beginning to end and just didn't work out," Reich said. "To me, Peter Angelos is a good guy."
Angelos did not return a telephone call seeking comment. After the 1998 season, the Orioles reached a $2.7 million, two-year agreement with reliever Xavier Hernandez, but the deal came undone when the Orioles said he had a shoulder injury. He then signed a $250,000 agreement with the Astros and won $2 million in a grievance.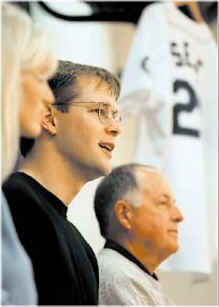 Gillick said Sele had a new physical Monday in California — with Angels physician Dr. Lewis Yocum, according to one source — while negotiations were taking place by telephone.
"There is going to be normal wear and tear," Gillick said. "You really have to rely on your medical people. They know which bumps along the road you have to watch for and which you can work through."
The Mariners, third in the AL West last season at 79-83, head into spring training with perhaps the top starting rotation in their division, a group that includes Jamie Moyer, John Halama and Freddy Garcia.
"It's great talk in the winter," Gillick said. "You have to do it on the field."
Seattle tried to sign Chuck Finley, wanting a left-hander who could beat the best AL teams, but the Indians got him for $27 million over three years.
Last year, the Mariners were just 1-9 against New York, 3-7 against Cleveland and 5-8 against Texas.
Sele was 18-9 with a 4.79 ERA with the Texas Rangers last year after going 19-11 with a 4.23 ERA in 1998. In his two years with Texas, Sele missed only one start, and that was because of flu symptoms.
He spent the first five years of his major league career with the Boston Red Sox and has a 75-53 career record.
"I think this is a business where timing is very important. You only have a very small window," Gillick said. "You have to react very quickly. Those who hesitate, as they say, are lost."