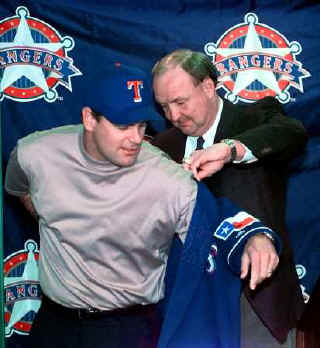 ARLINGTON, Texas (AP) — After four years away, Kenny Rogers returned to the Texas Rangers on Wednesday, signing a $22.5 million, three-year contract.
"It's not a secret that I wanted to come back," said Rogers, who had his greatest success with the Rangers and played his first seven years with the team. "I want to try to go out and do the same thing I did the first time, and hope it will last longer than the three years."
The Rangers went after the left-hander after the departures of pitchers Aaron Sele and John Burkett, who became free agents. Sele has refused the Rangers' offer of salary arbitration and the team has pulled a four-year offer off the table.
Sele (33 starts) can negotiate with Texas through Jan. 8, but Burkett (25 starts) is ineligible to sign with the Rangers until May 1.
"We felt that our pitching staff the last few years has been all right-handed. Kenny was on that list, someone of quality we would like to pursue," Rangers general manager Doug Melvin said.
Melvin said the deal with Rogers was finalized after no progress was being made in the negotiations with Sele.
"This came about for a fear I had about not having anybody," Melvin said. "My fear was going about this and ending up with no starting pitcher."
Texas hasn't had a left-handed starter since trading Darren Oliver in July 1998, but now possibly has two with the addition of Rogers and 26-year-old Justin Thompson, acquired in the deal that sent Juan Gonzalez to Detroit.
Rogers has a career record of 114-78, the .594 winning percentage the second-highest among available free agent starting pitchers. He was a 39th-round draft pick of the Rangers in 1982, and broke into the majors seven years later.
On July 28, 1994, Rogers pitched one of only 14 perfect games in modern major league history, beating the Angels 4-0.
Rogers was 5-1 with a 4.03 ERA for the New York Mets in the final two months of last season after going 5-3 with a 4.30 ERA for the Oakland Athletics.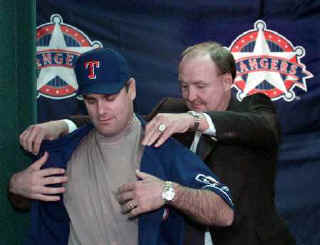 However, he ended the Mets' season by walking Andruw Jones with the bases loaded in the 11th inning of Game 6 of the National League Championship Series, giving Atlanta a 10-9 win and a berth in the World Series.
"That's the way it goes sometimes. People tend to forget that of my 12 starts we won 10 of them," Rogers said.
Since Rogers left Texas after the 1995 season to sign a $20 million, four-year contract with the New York Yankees, the Rangers have won three division titles. But they've been swept in the opening round of the playoffs by the Yankees the past two seasons.
"I came to this team thinking that this team will be in the playoffs," Rogers said. "I've never been adverse to failing and going out and trying again."
After going 17-7 in 1995 with the Rangers, his record dropped to 12-8 and 6-7 in two years with the Yankees.
New York then traded him to Oakland and agreed to pay half of the $10 million remaining on his contract. Rogers went 16-8 with a 3.17 ERA in his one full season with the A's.
---
TEXAS RANGERS PRESS RELEASE:
RANGERS SIGN KENNY ROGERS TO THREE YEAR CONTRACT
FOR RELEASE: 4:00 p.m. (CST), Wednesday, December 29, 1999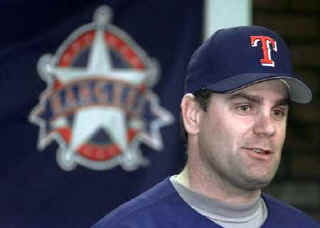 The Texas Rangers announced today that free agent pitcher Kenny Rogers has agreed to a three-year $22.5 million contract extending through the 2002 season. No further terms were disclosed.
With a career record of 114-78, Rogers had the second-highest winning percentage (.594) among available free agent starting pitchers this year. He also has the seventh highest winning percentage in major league baseball among active lefthanders with at least 100 decisions. Over the last five years, he ranks ninth among lefties in innings pitched (966.0), is 11th in wins (61), is 12th in strikeouts (574) and is 13th with a 4.07 era (437 er/966 ip). He has now recorded 18 consecutive home wins in a span of 39 appearances (34 starts) with his last home loss coming in a relief outing with the Yankees on June 28, 1997 vs. Cleveland.
Rogers, 35, returns to Texas after four seasons away from the team. The lefthander began the 1999 season with Oakland where he was 5-3 with a 4.30 era (57 er/119.1 ip) before a trade on July 23 sent him to the New York Mets in exchange for minor leaguers Terrence Long and Leoner Vasquez. He was 5-1 with a 4.03 era (34 er/76.0 ip) as the Mets went 10-2 overall in his 12 starts with the team. The Mets did not offer Rogers arbitration after the season, meaning the Rangers do not owe the team any compensation for today's signing.
A 39th round draft pick of the Rangers in 1982, Rogers broke into the major leagues in 1989 and pitched with Texas until 1995. His career record with the Rangers is 70-51 with a 3.88 era (407 er/943.1 ip) and 680 strikeouts. Initially a reliever, he appeared in 73 games during his rookie season which ranked third in the American League. He followed that in 1990 by ranking third in the A.L. in relief wins (9), a mark that still stands as a Rangers' record for the most ever by a lefthanded reliever. After leading the A.L. and tying for the Major League lead with 81 appearances in 1992, Rogers became a full-time starter in 1993. He finished first on the Rangers in wins that year (16) and ranked second on the club in starts (33), complete games (5) and strikeouts (140). The 1994 campaign again saw him top the team in victories (16) as he finished among A.L. leaders in complete games (6), shutouts (2) and wins. On July 28, 1994, he retired all 27 California Angels batters he faced to become the first-ever A.L. lefthander to record a perfect game. The performance was the 11th regular season perfect game in the majors since 1900. Rogers' 1995 season with Texas saw him finish fourth in the A.L. in wins (17-7), fifth in era (3.38) and sixth in winning percentage (.708)
In 1996, Rogers was a member of the New York Yankees' World Series Championship club, posting a combined 18-15 record with a 5.11 era (184 er/324.0 ip) in his two years with the team. After a November 1997 trade sent him to Oakland, Rogers led the A's, and ranked among American League leaders, in wins (16-8), starts (34), complete games (7), era (3.17), innings (238.2) and strikeouts (138) in the 1998 season.
With today's move, the Rangers have 40 players on their major league roster.