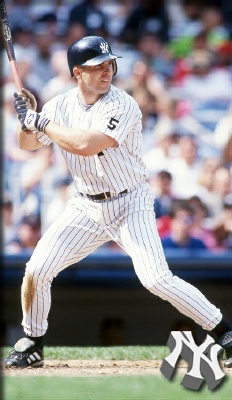 ANAHEIM, CALIFORNIA (TICKER) — Chad Curtis, who hit the game-winning home run in Game Three of the 1999 World Series and caught the final out to conclude the New York Yankees' four-game sweep of the Atlanta Braves, today was traded to the Texas Rangers.
In exchange for Curtis, the Yankees received minor league righthanders Sam Marsonek and Brandon Knight.
A platoon player with the Yankees, Curtis is expected to be used in a backup role in Texas behind Rusty Greer, Ruben Mateo and Gabe Kapler.
"This gives us versatility and depth in the outfield," Rangers general manager Doug Melvin said. "It's nice to bring in a person that has a few championship rings."
Curtis has been with the Yankees since 1997 and hit .262 with five homers and 24 RBI in 96 games last season. In his first World Series start, he hit a pair of homers, including a 10th-inning blast off Mike Remlinger that gave New York a 6-5 victory. The following night, he capped a 4-1 win by catching a fly ball hit by Keith Lockhart.
The departure of Curtis reduces the crowded left field situation in New York that already includes Ricky Ledee and Shane Spencer. At one point last season he clashed with Derek Jeter, taking the star shortstop to task for engaging in a friendly conversation with Alex Rodriguez of Seattle during a brawl with the Mariners.
In trading Curtis, the Yankees obtain more flexibility on a payroll that reached $92 million last season. Curtis has two years remaining on a contract that will pay him $1.9 million next season. The Yankees recently bought out the contract of designated hitter Chili Davis for $800,000 and have not made an effort to re-sign free agents Joe Girardi and Luis Sojo.
Originally selected by California in the 1989 draft, Curtis is a career .265 hitter with with 90 homers and 403 RBI for the Angels, Detroit, Cleveland and the Yankees.
Melvin was interested in adding a veteran player to his lineup after losing outfielder Juan Gonzalez via trade and third baseman Todd Zeile to free agency.
"We came here (to the winter meetings) trying to get a third baseman and a fourth outfielder," Melvin said.
The Rangers hoped to re-sign Zeile, but he signed with the New York Mets on Saturday.
Marsonek, 21, was 3-9 in 15 games for Charlotte of the Class-A Florida State League last season.
Knight, 24, was 9-8 with a 4.91 ERA in 27 games at Oklahoma of the Triple-A Pacific Coast League.
| | |
| --- | --- |
| | |
| Sam Marsonek | Brandon Knight |