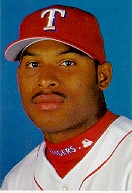 ARLINGTON, TEXAS (TICKER) — Texas Rangers center fielder Ruben Mateo, one of the top prospects in baseball, is expected to be sidelined six to eight weeks with a broken hamate bone in his left wrist.
Mateo returned to the 15-day disabled list today after suffering the injury while batting in the eighth inning of Wednesday's 3-1 win over the Minnesota Twins.
The Rangers plan to activate outfielder Tom Goodwin from the disabled list Friday to replace Mateo on the roster.
Preliminary X-rays on Mateo were negative but he was diagnosed with a fracture after an exam by hand specialist Dr. Bobby Wroten. Mateo will undergo surgery Friday to remove the broken bone.
Mateo, 21, homered in his major league debut June 12 against Colorado and is batting .238 with five homers and 18 RBI in 32 games. He was on the disabled list from June 23 to July 9 with a pulled left groin.
At the time of his recall, Mateo was one of the top players in the Triple-A Pacific Coast League with a .340 batting average, 17 homers, 58 RBI, 81 hits and 50 runs scored. Used as a center fielder and designated hitter, he was batting .434 (23-for-53) during a 13-game hitting streak for Oklahoma.
Signed as an undrafted free agent in 1994, Mateo was among the last players cut by Texas during spring training. The native of the Dominican Republic hit .283 with four homers and 11 RBI in 24 exhibition games.
Goodwin appeared in just one game after straining his left hip flexor muscle June 11. He was disabled from June 12-26, played on June 27, and went back on the DL the following day.
He is batting .241 with one homer, 12 RBI and 27 stolen bases in 56 games. He is tied for second in the American League in steals.