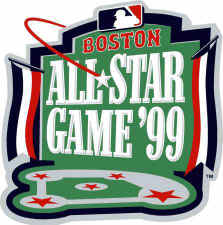 I didn't get to see the game yet. As I write this, it's about noon on Wednesday, and I was at a Black Sabbath concert last night. I did tape the game, I'll watch it later tonight and say something tomorrow.
However, I did get to see the thing in the beginning with Ted Williams – that was just so cool. I got to see two of my Phillies heroes from my childhood on the field (I was 15 and living in Philadelphia when the Phils won the series in 1980) – that was great.
More from me later – plus I also intend on getting some screen captures from the game of the Rangers players.
Edit in Dec 2008: As I finally convert the 1999 season to this new site format, I noticed I never wrote about this game, so I'll copy an old wire story up here:
BOSTON (TICKER) — On a night when baseball honored Ted Williams, Pedro Martinez built his own New England All-Star lore.
Martinez, already an icon in just his second season with the Red Sox, became the first pitcher to open an All-Star Game with four strikeouts and fanned five in two dazzling innings to lead the American League to a 4-1 victory over the National League at Fenway Park.
Martinez earned the win with the help of run-scoring singles in the first by Jim Thome, one of four Cleveland Indians in the starting lineup, and 17-time All-Star Cal Ripken of Baltimore.
"I was really excited," Martinez said. "But it wasn't really for the fan's reaction, it was just to see so many glories of baseball all together at one time."
The third and final All-Star Game at one of baseball's storied stadiums featured pregame ceremonies steeped in tradition. Candidates for baseball's All-Century Team, including Hank Aaron, Willie Mays and Fenway legend Carl Yastrzemski, were introduced along with the players in tonight's game.
The final tribute was saved for the 80-year-old Williams, an 18-time All-Star and the last player to hit .400, 58 years ago. Williams was taken to the middle of the infield on a golf cart, where both All-Star clubs and members of the All-Century Team converged to greet him amid thunderous applause.
"I can only describe it as great," Williams said. "It didn't surprise me all that much because I know how these fans are here in Boston. They love this game as much as any players and Boston's lucky to have the faithful Red Sox fans."
So enthralled were the past and present players with seeing Williams that an announcement had to be made to get the players back to their dugouts and begin the game, which started 14 minutes later than the scheduled 8:40 p.m. EDT.
With the aid of 15-time All-Star Tony Gwynn of the San Diego Padres, Williams made a soft toss to honorary AL captain Carlton Fisk, another Boston hero.
That set the stage for Martinez, baseball's winningest pitcher (15) and the first Red Sox to start an All-Star Game since Roger Clemens in 1986. He made the most of his 28 pitches, 19 of which were strikes.
Martinez set down Barry Larkin and one-time teammate Larry Walker before fanning two of baseball's most prolific long-ball hitters, Sammy Sosa and Mark McGwire. All but Walker went down swinging.
"I don't have too much to say, just fastball, changeup and curveball," Martinez said of his encounter with Sosa and McGwire.
"He's right now probably the top pitcher in the game and will be for a while," said Walker, currently with Colorado and a one-time teammate of Martinez in Montreal. "He was dominating with all his pitches and threw them all for strikes."
Matt Williams broke the streak by reaching on an error by second baseman Roberto Alomar as Martinez fell one shy of the record for consecutive strikeouts set by Carl Hubbell in 1934 and matched by Fernando Valenzuela in 1986.
Martinez ended up facing the minimum six batters after Jeff Bagwell struck out and Williams was thrown out attempting to steal. The All-Star record for strikeouts in a game is six by four pitchers, most recently by Ferguson Jenkins in 1967.
Martinez's regular-season dominance carried over to the mid-season classic as he was named Most Valuable Player, the first Red Sox to earn the honor since Clemens in 1986. The only other Red Sox named All-Star MVP was Yastrzemski in 1970.
Martinez became the first pitcher to win a game in his home park since Toronto's Jimmy Key in 1991. He has pitched four scoreless innings in three All-Star appearances.
The loser was starter Curt Schilling of Philadelphia, a one-time Red Sox minor leaguer who allowed a pair of runs in the first.
"I'm happy, but I certainly wish I would have thrown two scoreless innings," Schilling said.
The game featured 13 hits, just six by the winners. The teams combined for 22 strikeouts, breaking the mark of 21 for a nine-inning All-Star Game set in 1984. No player had more than one hit, the first time that has happened since 1988 in Cincinnati.
Kenny Lofton of Cleveland reached on an infield single when Schilling was late covering first on a grounder. Lofton promptly stole second before Boston's Nomar Garciaparra flied out to right field and Ken Griffey Jr. took a called third strike. Manny Ramirez of Cleveland walked and Thome and Ripken followed with consecutive RBI singles.
"It was great. Kenny did his normal thing and got on base, and I got lucky and got a hit," said Thome, who has hitless in his three previous All-Star at-bats.
Martinez was replaced by David Cone of the New York Yankees, who allowed a run in the third on a double by Jeromy Burnitz and a two-out single by Larkin. Cone also allowed the NL to load the bases in the fourth before getting Burnitz on a groundout.
The AL increased its lead to 4-1 with two runs in the fourth off 14-game winner Kent Bottenfield of St. Louis, who opened the inning by walking Thome and hitting Ripken with a pitch. Rafael Palmeiro of Texas singled home a run and Ripken scored after third baseman Williams misplayed a ball hit by Alomar.
Garciaparra, who received a warm ovation before the game, was hitless in two at-bats before being replaced in the fourth by Derek Jeter of the AL East rival Yankees. Garciaparra missed Boston's last nine games due to a groin injury, and the ailment may have prevented him from getting to the single by Larkin in the third.
Sosa and McGwire had their chances to get the NL back in the game in the fifth, but Mike Mussina of Baltimore struck out the sluggers with runners on second and third to end the threat.
A dazzling play by Cleveland shortstop Omar Vizquel saved a run in the seventh. The NL put runners on first and third off Texas rookie Jeff Zimmerman with the help of an error by Boston second baseman Jose Offerman. Vizquel reached a ground ball up the middle by Vladimir Guerrero of Montreal and flipped the ball straight from his glove to Offerman for the final out of the inning.
"I thought it was just an opportunity to shine for my team," Vizquel said. "I didn't have much time to think about it. I just did the best I can."
The NL went down meekly thereafter. Texas closer John Wetteland got the save, ending the game by starting a broken-bat double play by San Francisco's Jeff Kent.
Despite Fenway's cozy dimensions, the game did not feature a home run. Coming closest was Thome, who flied out to the warning track in right field off Jose Lima of Houston in the fifth.
The AL won its third straight All-Star Game, but still trails in the series, 40-29-1.