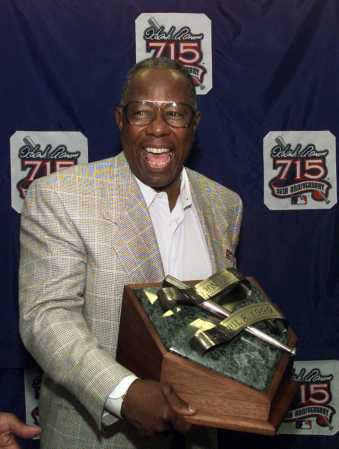 ATLANTA (AP Newswire)– Hank Aaron was the anti-Ruth.
The Babe didn't live life, he devoured it. He didn't run from the spotlight, he stepped right in front of it. Every move was exaggerated, every swing was oozing with swagger. He wore 714 like a well-fitting glove.
Aaron, coming along five years after Ruth died in 1948, spent his entire career in the baseball outposts of Milwaukee and Atlanta. He was reserved but outspoken, proud but modest, a simple man who wanted to be recognized for his accomplishments, yet seemed to prefer going about his business without anyone noticing.
On the field, Aaron's legacy was built on steady, sustained, unspectacular excellence. While the Bambino hit 60 homers in a season — many of them towering shots that were worthy of their own word, "Ruthian" — Aaron's best effort was 47.
"I never had a great home run year like Mark McGwire did with those 70 homers, or Sammy Sosa with the 66," Aaron says. "That was not my calling card."
Surely, if someone had to eclipse Ruth's record, it would be a player capable of spectacular feats. Like Willie Mays. Or Mickey Mantle. With Aaron, every move was economic and calculated, which the critics mistook for nonchalance when they should have recognized the elegance.
"In my day, sportswriters didn't respect a baseball player unless you played in New York or Chicago," Aaron says, relaxing behind his desk from an office that sits atop the left-field stands at Turner Field. "If you didn't come from a big city, it was hard to get noticed."
But on April 8, 1974, a damp, overcast night in Atlanta, everyone noticed. Mickey had retired and so had Willie, both well short of the Bambino, so it was left for Aaron to erase baseball's most famous number, surpass its most revered player, take his place as the ultimate home run king.
"It was some of the most awesome things I've ever seen," says Dusty Baker, who followed the Hammer in the batting order that night at Atlanta Stadium. "The way he set up pitchers, the way he was patient. His concentration level was beyond compare. If he was supposed to hit a ball hard, he didn't miss it."
Al Downing, a hard-throwing left-hander in his younger days, was on the downside of his career with the Los Angeles Dodgers. He walked Aaron the first time up, the bat never leaving his shoulder. In the fourth inning, with the Dodgers leading 4-1, Aaron came up again with two men on base.
Before leaving the on-deck circle, he had a few words for his teammate. "He told me he was tired and he wanted to get it over with right now," Baker recalls.
Downing reluctantly threw a pitch in the strike zone — a breaking ball that didn't live up to its name. Aaron whipped his 34-ounce Louisville Slugger through the strike zone with those powerful wrists. The ball sailed into the gloaming, rising higher and higher as the crowd of 53,775 rose to its feet with a collective gasp.
Finally, after seconds that seemed like hours, the ball dropped beyond the left-field fence, eluding the mighty leap of Dodgers left fielder Bill Buckner. It was caught in the bullpen by Braves reliever Tom House at 9:07 p.m.
"I think it was supposed to have been a screw ball," says Aaron, his hair speckled with gray but still looking quite fit at age 65. "That's what happens when they throw those funny pitches. If you throw a forkball that doesn't fork or a screwball that doesn't screw, it's good-bye."
From the on-deck circle, Baker thrust an arm in the air as soon as the ball left Aaron's bat. To this day, he still marvels at what he saw that night.
"The pain that he was in at that time was tremendous," Baker says. "He had a bad back, he had sciatic nerve problems. … He'd sit at his locker, concentrate for an hour and go out and play like nothing ever happened to him. He'd run out like a young kid and then run back in like Fred Sanford."
The Hammer played two more years, padding his home runs to 755 before retiring. But the one that will always stand above all others is 715.
"I feel like that home run I hit is just part of what my story is all about," Aaron says.
Indeed, it is. He has more RBIs (2,297), extra-base hits (1,477) and total bases (6,856) than anyone in baseball history. He ranks second in at-bats (12,364) and runs (2,174), third in games (3,298) and hits (3,771), ninth in doubles (624). During a 23-year career, he batted .305.
That's not all. He was one of the game's best outfielders. He had 240 stolen bases in his career, though he rarely ran in his early years because no one did.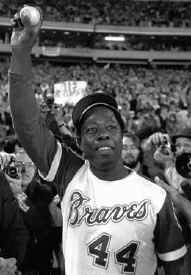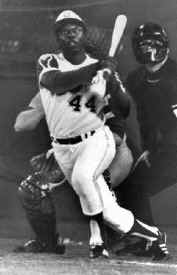 Aaron knows there are players who could break his home run record some day. He puts Ken Griffey Jr. at the top of the list.
"The kid is young enough that if he keeps going, keeps focused, he has a good chance to do it," Aaron says. "The only thing against him is complacency and making so damn much money. It was a long time before I made $30,000. I had to keep plugging. I never signed a two-year contract. I had to go from year to year. My raise always depended on what kind of year I had."
As he closed in on Ruth's record, Aaron received mail by the hundreds of thousands. Most was kind and encouraging, but some began with menacing messages like this one: "Retire or die!" Baseball had been integrated for less than three decades, and there were bigots who couldn't stand the idea that a black man from Alabama was going to break the Bambino's record. The venomous letters are still stored in the attic of Aaron's home.
"The time wasn't as happy as it should have been," Baker says. "But all that mail and stuff, people don't understand. If you're a strong, black man — especially if you're from the South — and you've been through a lot of stuff, I don't think people understand that the more you mess with some people, the stronger you make them. All that did was make him more focused. He was playing against the other team, for our own team and against that hate mail and against parts of America."
Unlike the lovefest that accompanied McGwire and Sosa during their home run race, baseball itself seemed reluctant to embrace Aaron as he hunted down Ruth. Then-commissioner Bowie Kuhn ordered Aaron to play in the opening series of the 1974 season at Cincinnati, threatening to punish the Braves if they held him out until the first home game.
Then, after Aaron hit No. 714 off Jack Billingham at Riverfront Stadium, Kuhn didn't even show up for the historic night in Atlanta. He sent one of his assistants, Monte Irvin, who brought along a watch to mark the occasion.
"I don't know what happened to it," Aaron says, looking at his wrist with a smirk on his face. "All I know is I'm not wearing it now."
But times have changed. As the game prepares to honor the 25th anniversary of one of its greatest moments, Aaron is at peace with himself. He once criticized baseball for overlooking his achievement; now, he seems satisfied with his recognition.
"The longer I've been out, the more people realize what I did," he says. "They're beginning to start looking at the record, looking to see what I've accomplished in baseball. They're beginning to put things in perspective."
Recently, he read a book that rated him as the fifth-best player in baseball history. That's good enough.
"Twenty years ago, people would have said I was just a ballplayer," Aaron said. "Eventually, things settled down and they say now, 'Hey, look at what he did, what his career was all about. He deserves to be one, two or three, right up there.' Will I ever be number one? I don't know. But to be in the top five is pretty good."
This season, baseball will begin honoring its top hitter with an award, something along the lines of the Cy Young for pitchers. It will be known as the Hank Aaron Award.
"He's finally receiving a major award," Braves hitting coach Don Baylor says. "I don't know why it took so long."