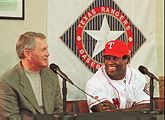 ARLINGTON, TEXAS (TICKER) — Heisman Trophy winner Ricky Williams informed the Texas Rangers today that he does not intend to play baseball in 1999.
After receiving a letter from Williams stating his intention to concentrate on a career as a running back in the NFL, the Rangers decided to place the outfielder on the restricted list. As a result, Williams will not count against the major league roster and will remain the property of the Rangers.
Williams, the all-time leading rusher in Division I-A history with 6,279 yards, figures to be one of the top players selected in the NFL draft in April.
The 21-year-old Williams has never played above Class A and has not had more than 266 at-bats in any minor-league season. He batted .204 and averaged a strikeout nearly every three at-bats through his first three seasons before batting .283 (15-for-53) last season at Batavia of the Class A New York-Penn League.
Williams originally was an eighth-round pick of the Phillies in 1995. He was not on Philadelphia's 40-man roster and the Expos paid $50,000 to pluck Williams in the Rule 5 draft on December 14. The next day he was sold to Texas.
As a senior, he ran 2,124 yards and 27 touchdowns and finished his career with 20 NCAA and 44 school records.