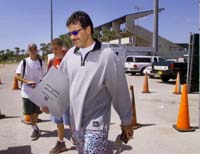 FORT MYERS, Fla. (AP) – Texas Rangers first baseman Rafael Palmeiro had surgery Sunday to repair torn cartilage in his right knee and will be sidelined 4-to-6 weeks.
Palmeiro, who played with the Rangers from 1989-93 before re-signing as a free agent during the offseason, also had surgery on the knee on Feb. 10.
He was working out with the club and had been expected to return by the end of the week, but reinjured his knee while jogging Thursday. Dr. John Conway operated on the knee Sunday at Fort Worth, Texas.
Palmeiro, 34, has appeared in 1,368 games in the '90s, second to Cal Ripken Jr. He has not missed more than three games in a season since 1990.
Texas said there is an outside chance he could be ready for opening day.
ARLINGTON, TEXAS (TICKER) — Texas Rangers first baseman Rafael Palmeiro, who signed a five-year, $45 million contract with the club during the offseason, underwent arthroscopic surgery on his right knee today and is expected to be sidelined 4-to-6 weeks.
Rangers orthopedist Dr. John Conway removed torn medial miniscus cartilage from Palmeiro's knee. He is expected to remain in Texas for several days to begin rehab before returning to the Rangers' spring training camp in Port Charlotte, Florida at the end of the week.
Palmeiro underwent surgery on the knee on February 10, but experience soreness while jogging in Port Charlotte on Thursday. After an MRI revealed torn cartilage, Palmeiro was forced to undergo another arthroscopic procedure. He had not appeared in a spring game.
The 34-year-old Palmeiro spent five seasons with the Rangers before the club opted to sign Will Clark as a free agent prior to the 1994 season. Ironically, Palmeiro's return to Texas prompted the Orioles to sign Clark as their first baseman for the upcoming season.
Palmeiro batted .296 and established career highs with 43 home runs and 121 RBI with Baltimore last season. For his career, Palmeiro has 314 homers and 1,079 RBI.
Palmeiro has been one of the steadiest players this decade. Only four players have more hits and he is in the top 10 in doubles and runs scored. Only Orioles iron man Cal Ripken has played more games in the 1990s than Palmeiro.
In five years with the Orioles, Palmeiro led the club in RBI five times and homers four times. He is the only player in Baltimore history to hit at least 30 home runs in four straight seasons. He also is the only Oriole to record at least 35 home runs on four occasions.
A solid defensive player, Palmeiro has won consecutive Gold Glove Awards. He is a career .294 hitter with 314 homers and 1,079 RBI in 1,782 games.
In 19 playoff games, the Cuban-born Palmeiro has batted .239 with four homers, eight RBI and 22 strikeouts.