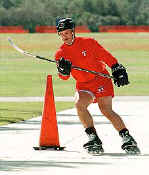 PORT CHARLOTTE, Fla. — Texas Rangers closer John Wetteland strained his right ankle during a workout Monday and is expected to miss the next week or two.
Wetteland, who had 42 saves and was 3-1 with a 2.03 ERA, will be sidelined while the swelling goes down.
"It's frustrating because I put in a lot of sweat and hard work to get back to where I was feeling pretty good," Wetteland said. "It just shows that the ankle is an important part of the body, too."
Wetteland had elbow surgery in the off-season and has been throwing without any problems.
Rangers pitchers and catchers reported to camp last week. The full squad is due in on Thursday.