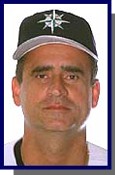 The Rangers signed 41 year old Tony Fossas to a minor league contract for 1999. The contract also includes an invite to the 1999 Spring training camp. Tony signed as a free agent last year and was used in the September stretch drive almost exclusively against left handed hitters.
(Sports Ticker News Story:) Left-hander Tony Fossas, still effective against left-handed batters at the age of 41, today signed a minor-league contract with the Texas Rangers. The pact with Triple-A Oklahoma of the Pacific Coast League includes an invitation to major-league spring training as a non-roster player.
With a sweeping curveball, Fossas normally works exclusively against left-handed batters. He was 1-0 with a 0.00 ERA in 10 games with the Rangers after stints with Seattle and the Chicago Cubs. Overall, he was 1-3 with a 5.96 ERA.
Fossas became a free agent after rejecting an outright assignment to the minors by the Rangers. He has pitched in 562 games for six teams during a 10-year career.